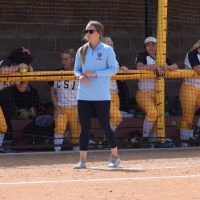 First year softball coach Shelby Shurtliff had the USU Eastern Lady Eagles playing their most consistent ball since the school relaunched the program. Unfortunately, the season was unceremoniously shutdown early due to the COVID-19 pandemic in April.
Racing out to a 12-7 record overall, which included a 4-4 mark in conference play, USU Eastern was on pace to have the best season in the program's short history.
"I was happy with this year although, I'm sad it got cut short. I was really looking forward to see what we would have done and which ways we would have grown," said Shurtliff after the season was shutdown. "I know the girls aren't satisfied, which excites me for next year. We as a program are just scratching the surface."
Shurtliff is the third head coach since the program relaunched in 2017. While she may be new to the dugout as the head coach, she's certainly familiar with the team.
Attending Payson High School, Shurtliff received All-Region honors in 2013-2015. She then spent her first year of post high school ball at Salt Lake Community College. After transferring to USU Eastern in 2018, Shurtliff became an All-Conference infielder for the Eagles.
When her playing days came to an end Shurtliff accepted an assistant coaching job with the USU Eastern in 2019. She then became the head coach when the position opened up prior to the 2020 campaign.
"I knew I wanted to get into coaching, because it had always been my dream," said Shurtliff. "I couldn't do it without my assistant coaches. Its amazing to have this opportunity being so young and doing what I really love."
The transition for Shurtliff has been an easy one. The closeness in age has allowed her to relate to her players, giving the team a solid base.
"I try not to drag out our practices too long, because they are student-athletes," said Shurtliff. "Sadly sports don't last forever, especially in softball. Academics need to come first, so it is important for these girls to do well in school."
One of the joys for Shurtliff has been the ability to recruit to build her vision for the team's future.
Nearly matching the team's win total from 2019 in just 19 games in 2020, the Eagles enjoyed a spike across the board statistically, most notably on the offensive side of the ball. The team's numbers improved drastically in batting average, on-base percentage and slugging percentage.
While skill is an highly important trait for each student-athlete she recruits, Shurtliff also looks for personality. There is a heavy emphasis on teamwork at USU Eastern and that's the type of culture she looks to build.
"I just love being around the game of softball and the girls everyday. The girls always give me their all in practice and I really couldn't ask for anything more."
Listen to Shurtliff's complete interview below: