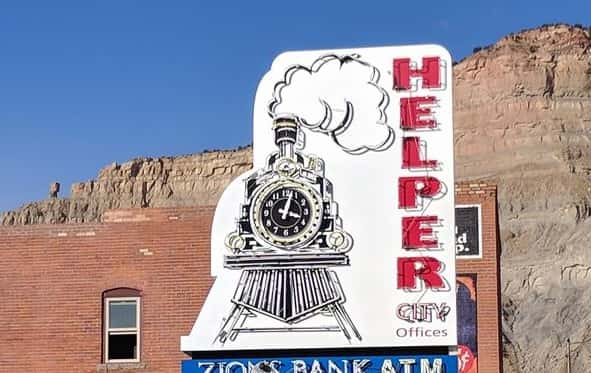 There is always something fun and exciting taking place in Helper so Castle Country Radio caught up with Mayor Lenise Peterman to find out what is happening. She was able to talk about the new plan for wayfinding signage, the opening of the city's swimming pool and shared an update on phase six of the River Restoration Project.
"When we had USU-Logan do a Master Design Plan for the city last fall they presented a wayfinding system to us that I was really personally super excited about and then was able to capture some funding from Utah Power and Light Credit Union, as well as Carbon County to really make that become a reality," said Mayor Peterman. Last week, the city began working with Pezcuh Printing with the design which will mirror the way finding signs that was advised in the county's marketing plan. The city hopes to have some sample signage out mid-July, with the final touches up by August.
Earlier this month the city announced that they were unable to open the city's pool this summer and many citizens were saddened by the news. "The city just had some tough decisions in front of them, the council did; with the decrease in sales tax revenue and the impact the pandemic has had on us economically, so it was really refreshing to see the community rally around it and help us solve that problem and help us get it open. So, we appreciate the committee who' s worked on it, all the people who donated, it's just really a super thing to see everybody working towards the same goal," explained Mayor Peterman. There will be a Community BBQ Fundraiser held on Wednesday, July 1 at the Helper Pool from 4:00 pm to 6:00 pm and it is being sponsored by Balance Rock Eatery and R&A Market.
The city has been working hard on the River Restoration Project over the past few years and they are in the middle have obtaining and applying for grants to help fund phase six of the project. "So we've been fortunate we received a $250,000.00 from the Outdoor Rec Division of Utah, and then we've been able to match that with $220,000.00 funding from the Watershed Restoration Initiative, WRI, they've been a longtime supporter of this project, they weighed in with a really large award and we greatly appreciate that, and then an additional $65,000.00 from the Endangered Species Fund. So you know we're trying to really build that bank to get to about $2.3 million, but this will get us started for sure," said Mayor Peterman. Phase Six of the project is in the northern section of the river near Gigliotti's Pond.
To stay informed on the happenings in Helper visit their Facebook page.