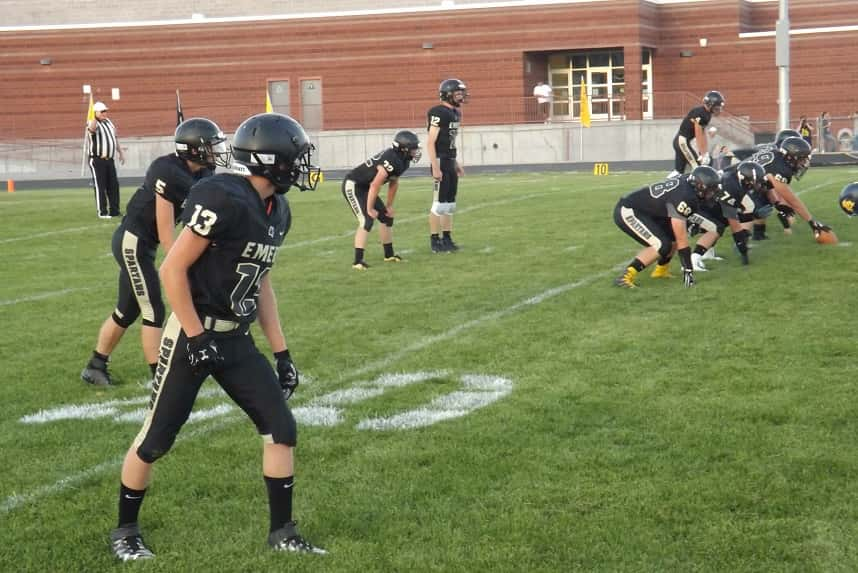 The Emery Spartans closed out the regular season Friday night in Castle Dale when they welcomed the San Juan Broncos. It was a highly entertaining contest but at the end Emery would come up short falling 38-35.
San Juan entered the game 6-3 overall and 3-1 in Region 12 play. Led by quarterback Jace Palmer on 18-of-34 passing for 267 yards and three touchdowns and running back Jensen Grover who tallied 199 yards on the ground, it was really a matter of picking your poison for the Spartans.
In the first quarter Grover would score on an 11 yard run. On the next San Juan possession Palmer would throw an interception into the waiting arms of Hays Dalton who would return it for a touchdown tying the score at 7-7. By the end of quarter one the Broncos would lead 19-7.
Moving into the second quarter Emery would put on an offensive clinic outscoring San Juan 21-6 and taking the 28-25 lead into the locker room at the half. The highlight would have to be a 61 yard passing play from Ryker Jensen to Jace Curtis courtesy of Jeremy Brannon via the "Hook and Ladder" play that was executed to perfection.
The second half was relatively quiet for both teams. The Spartans would take the lead in the third quarter 35-25 off a Jensen pass to Josh Olsen for 28 yards. In the fourth quarter San Juan would put the game away with a 78 yard run by Grover to seal the win.
For the Spartans Ryker Jensen would go 25-of-38 for 299 yards passing and Jace Curtis who was pretty much bottled up on the ground had four receptions for 99 yards.
"All the momentum was on our side, and we just didn't take advantage like we needed to" said coach Jon Faimalo after the game. When asked if he thought the second quarter was the one of the best quarters of the season he replied,"Oh by far, I thought Ryker was on point and he did a really good job that way."
Up next for the Spartans is a trip to Grantsville next Friday October 23rd for the first round of the 3A State Championship Tournament. Emery finished the season at 5-5 overall and No. 11 in the state RPI that was released Saturday morning.
You can catch all the action on KOAL 107.3 FM and 750 AM or stream live at castlecountryradio.com. The Landon's Diesel pre-game show will start at 5:30 and kickoff will follow at 6:00.