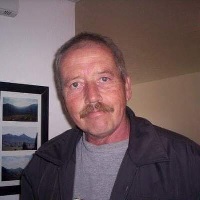 Jamie Allen Baird, 63, passed away January 7, 2021 while surrounded by his family at Intermountain Medical Center after a sudden illness.
He was born October 29, 1957 in Salt Lake City, Utah to James Allen and Nancy "Darlene" Lawley Baird.  On October 25, 1975, he married Elizabeth Maestas in Price, Utah.
Allen was a retired member of the United Mine Workers of America, Wilberg Local #2176 where he was injured in a mining accident in 1982.  He enjoyed the outdoors, searching for the perfect arrowhead, fishing, camping and gardening.  Allen lived for his family and he loved spending time with his grandkids and family.  He especially adored his nine granddaughters.  Allen was a resident of Castle Dale since 1979 and was a member of the Mission San Rafael Catholic Church where he was a Eucharistic minister.  He will be dearly missed by all who knew and loved him.
Survived by his loving wife, Elizabeth Baird, Castle Dale; three daughters and two sons, Michele (Patrick) McNulty, Sevier, Angela Anderson Davis, Castle Dale, Nancy (Nathan) Brown, Richfield, Jamie Allen Baird, Jr., Castle Dale, Adam (Kelly) Pilling, Miller Creek; nine granddaughters, KayDee, Aubrey, Mistie, Bailey, Maddie, Kim, Bella, Brynny and Brianna; brother, Davie (Elsie) Baird, Miller Creek; and a sister, Janet (Joseph) Maestas, Price.
Preceded in death by his parents; daughter, Shannon Baird; and two sisters, Jeanie Memmott and JoAnn Cotterman.
Funeral service, Saturday, January 9, 2021, 2:00 p.m., Mitchell Funeral Home where the family will receive friends Friday evening from 5:00-7:00 p.m. and Saturday one hour prior to service.  Interment, Castle Dale City Cemetery.  Arrangements entrusted to Mitchell Funeral Home of Price where friends are always welcome daily and may share memories online at www.mitchellfuneralhome.net.