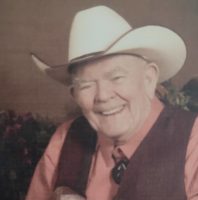 On January 6, 2021 Charles Harold Holt returned home to his Heavenly Father. He was born December 6, 1931 in Miami, Arizona to Alma Beatrice George and John Hurl Holt. He had many fond memories of going to Nolan, Texas in the summers to help his grandparents on their farm picking cotton. Charles graduated from Miami High School and then joined the Army in 1951. He served his country in the Korean War and left the Army following the war.  He moved to Kansas City to attend Vocational School in Aviation Meteorology. After getting his degree he moved to Thermal, California to work for Bonanza Airlines. While working for Bonanza Airlines he decided working for any airlines was not what he wanted for his future family. He was approached with a job opportunity with the Coachella Valley Water District and he worked there for 37 years.
Charles married his beloved wife Joanne Welch on July 20, 1956 in the Mesa Arizona Temple. Charles and Joanne started their new life together in the Coachella Valley in California. Charles and Joanne had four children, Debra Lynn (Cardell) Sackett, Jeffrey John (Farin) Holt, Kelly Arlene Holt, Karen Elaine Holt and "Adopted" daughter Cyndi Overhulse.
Charles was a faithful member of the Church of Jesus Christ of Latter-day Saints. His most enjoyable calling was being Ward Missionary Leader in Indio, California for 28 years. He made many lifelong friends throughout his life, young and old.
Later Charles moved to Price, Utah with his feet dragging but Joanne made him come. Once he was here, he quickly fell in love with the beautiful scenery and the wonderful people of Carbon County. Charles quickly made many new friends in his new neighborhood and ward. He had an amazing personality and sense of humor. Most people that heard Charles laugh would also laugh. He would tell his quirky jokes and no one found them funnier than Charles.
Charles was a soft spoken man that was humble and kind. He loved everyone and treated them as he would one of his own. Anyone who ever met Charles felt the same about him. He had a way of making you feel important and loved. Charles was an amazing son, brother, husband, father, grandpa and great grandpa.
Charles is survived by his sister Doris Fields, sister in law Henrietta Holt, four children, 12 grandchildren, and 25 great grandchildren, and many nieces and nephews. Charles truly loved all of his family as he had pictures of everyone in every room of his house. As much as he will be missed by his family left on earth, we know Charles was happy to be reunited with his parents, his wife, his brother Greg, sister Betty and many others. We love you Charles and will miss you 'like a horse misses a horse fly!'
A special thank you to the many EMT & Sheriff Deputies that came to our rescue and the caregivers from the VA Hospital, CNS Home Health & Dr. Gagon's Office.
Funeral services will be Wednesday, January 13, 2021 at 11:00 am with a viewing from 9:30 to 10:30 am at the LDS Westwood Ward building located at 175 North 1280 West, Price, Utah. Funeral Services have been entrusted to Fausett Mortuary. Interment will follow in the Cliffview Cemetery, Price, Utah.
Friends and family may visit the online guest book and share a memory of Charles at www.fausettmortuary.com.   The funeral services will be available on ZOOM.  The meeting ID number is: 4356545458.