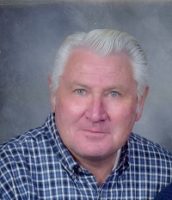 Donnell K. Madsen, the loving husband of Patricia Madsen, who passed October 28, 2020, joined his wife on the other side of the veil on January 11, 2021.
Donnell is survived by three sons and one daughter, Clint (Vikki) Madsen, Aaron (Kim) Madsen, Deborah (J.R.) O'Neil, Randy (Karin) Madsen; brother, Ronnie (Shirley) Lashmett; six grandchildren, Kandis, Shelbie, Alexandra, Shane, Dallen and Danner; two great-grandchildren, Kamryn and Skylar.
Funeral services are pending. Arrangements entrusted to Mitchell Funeral Home of Price where friends are always welcome daily and may share memories online at www.mitchellfuneralhome.net.