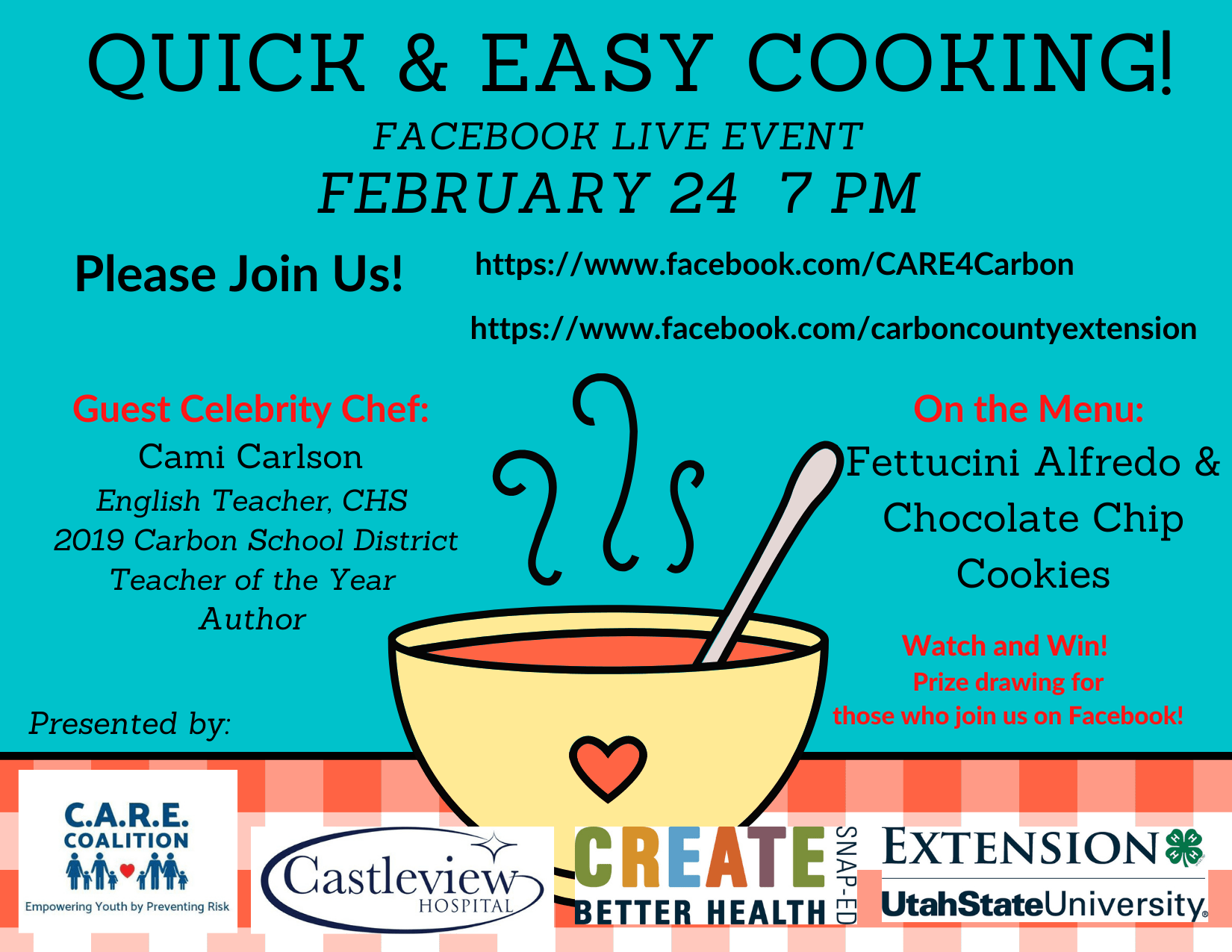 For the past month the USU Extension along with Castleview Hospital and the Carbon Addiction Reduction Elimination (CARE) Coalition have been offering live cooking course with local personalities helping in the kitchen. This Wednesday February 24, Cami Carlson local author and educator will stop in and help to create Fettuccine Alfredo and chocolate chip cookies. It"s all part of the Quick and Easy Cooking Classes program created by the Extension.
In the past month community members Casey Hopes, Linda Johnston and Greg Dart have taken their culinary skills in to the kitchen for some delicious results. While cooking, they talk about issues surrounding family and how difficult it can be sometimes to make sure you are doing all that you can to help promote healthy family relationships.
"We began the online quick and easy cooking classes last spring and we were able to do three face to face in-person before we had the pandemic hit", said Christina Pay, Family and Consumer Science Assistant Professor for the Extension. "They were very popular and we had them at the USU Extension Office, and we hated to discontinue them."
They now offer the courses on two different Facebook pages, the Carbon County Extensions page and the CARE Coalition for Carbon County. If you go to the USU Carbon County Extension's Facebook page to find ingredients so you will be able to cook along from home. While you are there you can also find out what some of the upcoming menu items are.
The classes begin at 7:00 and as an added bonus for tuning in prizes are given away. So remember to watch and win.
If you would like more information about the USU Extension in Carbon County you can go online to: https://extension.usu.edu/carbon/, or you can call the office at (435) 636-3233. for more information on the CARE Coalition their website can be found at: https://www.careforcarbon.org/, and you can reach them at (435) 637-7200 ext. 315.