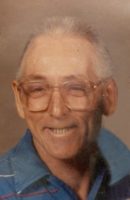 Our beloved father, grandfather, great-grandfather, brother, and longtime friend, Frank Stam, 83, passed away suddenly on April 3, 2021 in Price.
He was born June 1, 1937 in Salt Lake City, Utah to Jacob and Margaret Stam.  He was one of eight children.  Frank married his true love Carol June Butterfield on June 20, 1956.  She later passed away on January 12, 2001.
Frank was known for being the hardest and most dedicated worker in every job he performed.  He retired after decades of service from the Salt Lake City Water Department.  Frank was a great farmer and took much joy in that line of work.  He loved raising animals, gardening, yardwork, and anything outside.  He had many camping and fishing adventures with his family.  He also loved to work on everyone's cars and trucks while socializing.  People always gathered and felt welcome at the Stam's home.
If anyone knew Frank, knew he was very social.  He could have a conversation with anyone; appropriate or not.  People would find themselves eager to meet up with him at his morning coffee hangouts just to chat.  He truly enjoyed spending time with people and his friend list could never be full.  He was outgoing and loved by many.  His laugh or his holler would catch the attention of everyone in the room.  He felt the happiest just shooting the breeze and enjoying one's company.
Frank is survived by his daughter, Kathy (Bret) Densley, Helper, two sons, Dennis (Desiree) Stam, Price, Randy Stam, Price, and step-daughter, Debbie Holt, Bluffdale; brother Leland (Vi) Stam, Riverton; and many loving grandchildren and great-grandchildren.
Preceded in death by his parents; wife Carol Stam; son, Gary Stam; granddaughter, Randi Stam; sisters Barbara, Dorothy, Carol, and Re Nay; brothers Richard and Edward.
Funeral service, Thursday, April 8, 2021, 2:00 p.m., Mitchell Funeral Home (233 E Main Street Price, UT) where the family will receive friends one hour prior to service.  Interment, Mt. View Cemetery, Helper.  Arrangements entrusted to Mitchell Funeral Home where friends are welcome to share memories of Frank online at www.mitchellfuneralhome.net