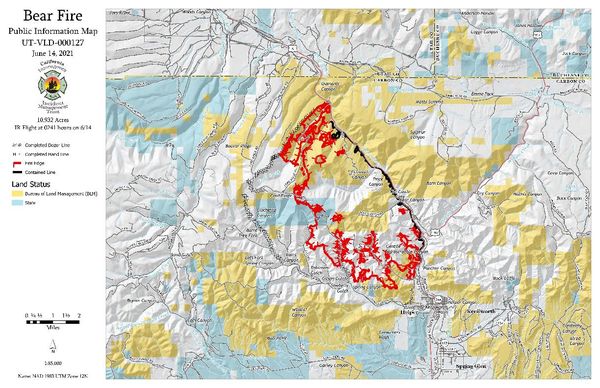 Press Release
Bear Fire Update
June 14, 2021 at 9 a.m
FIRE INFORMATION: 435-781-2746, daily from 7:30 a.m. to 7:30 p.m.
FACEBOOK: https://www.facebook.com/UtahWildfire
Acres 10,932
Containment 14%
Cause Lightning
Location 4 miles NW of Helper, Utah
Favorable conditions allowed firefighters to get good work done overnight, including cleaning
up line along Ford Ridge. The fire burned actively all night, but all activity was internal to
proposed containment lines. It was especially visible north of Helper, on Hardscrabble Canyon
and Spring Canyon roads.
Fire crews also aided in response to several incidents along Highway 6 during their overnight
shift. Drivers are reminded to stay focused, slow down, and use caution.
A Red Flag Warning remains in place for hot, dry conditions, and extremely low fuel moisture.
Priorities for today are to continue to construct containment lines above Helper and north of
Spring Canyon Road. If conditions are favorable, this may include some burning above the road.