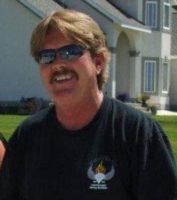 Loving son, father, grandfather, brother, uncle and friend to everyone.   Lynn Val Wardle age 58, passed away in his home in Price, Utah on July 15, 2021
Born to parents Wayne Grant Wardle and Betty Rae Smith Wardle September 20, 1962 in Salt Lake City, Utah.
Married Kimberly Kersten on October 20, 1979, later divorced.
Lynn loved his sons Brent and Mike, and daughter Rachel as well as his whole family.  Lynn worked in the coal mines on the longwall machine for many years to support his family.  Lynn also enjoyed hunting and taking brothers and nephews to his favorite places to hunt deer, elk, and pheasants.  Every hunting and fishing trip was an adventure with Lynn.
Lynn loved taking his boat "Cap'n Crunch" to Lake Powell with family and friends.  Lynn enjoyed riding his Harley "The Blue Bitch" in charity rides.  If anyone needed help, he was there.
Lynn was preceded in death by his parents Wayne Grant Wardle and Betty Rae Smith Wardle, son Lynn Brent Wardle, sister Janice Wardle Mounteer, brother-in-law Rodney Komar, sister-in-law Gail Kidd Wardle, nephew Ted Wardle, niece Sammie Mounteer, and niece Andrea Wardle.
Lynn is survived by son Mike, daughter Rachel, granddaughters Brenli and Jerzee, sisters Sherry (Rod) McKnight, June (Jim) Ledger, brothers Sam (Sally) Wardle, Vern (Karen) Wardle, Wayne (Marcy) Wardle, Bob Wardle and Joel (Virginia) Wardle; brother-in-law Percy Mounteer as well as many special nephews and nieces.
A graveside funeral service will be held at the Castle Dale, Utah Cemetery on July 21, 2021 at 12:30 PM.  A viewing will take place from 10:00 a.m. to 12:00 p.m. at Fausett Mortuary in Castle Dale, 720 North Center Street.  Lunch will be provided at the Castle Dale Park pavilion following the service.
Friends and family may share memories of Lynn and sign the online guestbook at www.fausettmortuary.com