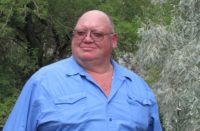 Allen Blain Henrie, 68, passed away at his home July 12, 2021 from COVID. He was born April 21, 1953 in Price, Utah to Wanda Carrie Nelson and Blain Henrie. He married Debra Dawn McKinney on September 9, 1972 in Price, Utah and they would have celebrated their 49th anniversary this year.
Allen grew up in Price and Miller Creek, Utah. He attended school at Central, Harding, and Reeves Elementary Schools, Price Junior High, the new Mont Harmon Junior High, and graduated from Carbon High School in 1971. He earned 2 Associate degrees from the College of Eastern Utah. Allen joined the Army in January 1972 and served until January 1975. He was stationed in Missouri, Georgia, Michigan, and served as a Military Policeman at top secret nuclear missile bases in Germany. He loved his time in the service and joined the National Guard after he was discharged from the Army. Allen worked in construction for his uncle Eph Henrie while in high school and after his military service. He went to work as a coal miner at Braztah #3 mine until its closure. After earning his first Associate Degree in Mining Technology Mechanics, he went to work as a service representative for Westphalia-Lunen installing, servicing, and maintaining longwall equipment at mines in Utah, Colorado, and New Mexico. He was a truck driver for the last years of his working life and worked for construction companies including Nelco and Savage. After a lower spine infection that prevented him from driving truck, he went back to college to earn his second Associate Degree in Electronics. The Electronics Degree led to an avid interest in ham radio. Allen was a proud member of the Sinbad Desert Amateur Radio Club and participated in many of their activities including community service projects and camping trips. Allen enjoyed camping, hunting, fishing, and anything with wolves.
Allen was a member of the Church of Jesus Christ of Latter-Day Saints. He was a scout leader for many years including webelos and 11-year-olds and loved helping the scouts learn valuable skills. Allen especially enjoyed visiting with friends, reading, and having coffee at Gas N Go as well as at Market Express during the late-night hours.
Allen is survived by his wife Debbie Henrie; his children Rod Henrie of Price Utah, Julia Henrie of Price Utah, Scott (Stacey) Henrie of Washington, and Christopher (Megan) Henrie of Utah; grandchildren Cameron, Logan, Mason, Jane, and Charlotte; great-grandchild Kaleb; siblings Carrie (James) Hansen, James (Billene) Henrie, Ken Henrie, and Danny Henrie; former sisters-in-law Rena Henrie and Tanya Henrie; step-mother Evelyn Henrie as well as many nieces, nephews, and great nieces and nephews.
Allen is preceded in death by siblings John Henrie and Carol Henrie; parents Wanda Henrie and Blain Henrie, grandparents Olive "Tot" Leonard Nelson and Hazelton "Brig" Nelson, and daughter in law Stacy Lindsey.
A viewing will be held Sunday, August 1, 2021 at Fausett Mortuary, 680 East 100 South, Price, Utah from 6:00 pm – 7:00 pm. Funeral Services will be Monday, August 2, 2021 at Price 6th Ward, 303 West 500 South, Price, Utah with a viewing from 10:00 am – 10:45 am. Funeral services will be live-streamed on Fausett Mortuary Facebook page.   Services are in the care of Fausett Mortuary.
Interment will be in the Cliffview Cemetery – Price, Utah.
Family and friends may sign the guest book and share memories of Allen at www.Fausettmortuary.com