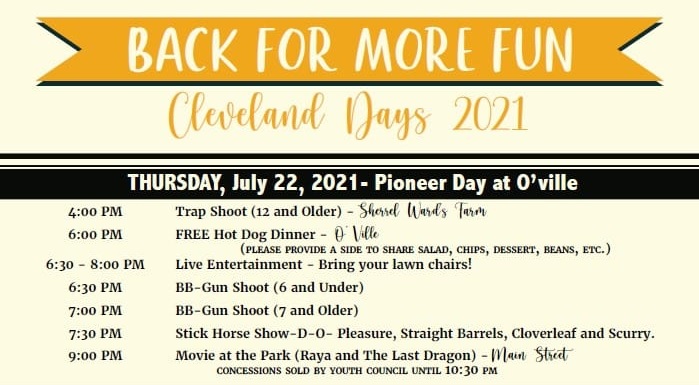 The theme has been set for this year's Cleveland Days Celebration, Back for More Fun and that is exactly what the town plans to have is lots of fun. The celebration will run from Thursday, July 22 through Saturday, July 24. Event Representative, Brydi Sharp stopped by Castle Country Radio to talk about all the details.
There will be a trap shoot held at 4:00 pm on Thursday, July 22. "The location has been changed to the Shooting Range south of Cleveland heading out towards the desert," said Sharp. This was going to be held on Sherrel Wards's Farm but the location had to be changed the last minute. Also taking place this evening is a free hot dog dinner with live entertainment. The dinner is a pot-luck so be sure to bring a side to share with everyone. There will be a BB gun shoot for children around 6:30 pm followed by Stick Horse Show at 7:30 pm. The night will close out with a movie in the park at 9:00 pm.
Friday activities kick off at noon and it's all about the kids. "12:00 pm to 2:00 pm at Main Street Park, it's $2.00, you'll get a card, that'll give you a pass to all the games that are being played, pizza, water bottles, all kinds of fun from 12:00 pm to 2:00 pm at Main Street Park," said Sharp. The one-time fee of $2.00 allows for kids to enjoy all the activities planned for them in the park for the afternoon.  At 5:00 pm there will be bike races at the south flat loop race. The Potluck Lamb Fry will begin at 6:00 pm with the cost with a potluck dish is $5.00 per plate or $25.00 per immediate family. There will be a slight increase in price without bringing a potluck dish to share. There will be live entertainment by the Cross Roads Band at 8:00 pm till midnight with concessions being provided by the Youth Council.
The celebration starts off bright and early on Saturday with the 5K run starting at 6:00 am, with Breakfast in the Park at 7:00 am. "Breakfast in the Park put on by Cleveland Town employees. There's a flag raising ceremony, that's going to be amazing. Kid's Parade starts at 10:00 am and the grand parade is at 10:30 am," said Sharp. Following the parade on Main Street everyone is invited to head to the park to enjoy vendors, races, games, car show. The car show will announce its awards at 2:00pm. The evening will feature free music, dancing, and the Youth Council Bake Sale will run from 7:00 pm to 11:30 pm. A fireworks show will begin at dusk and the city has recruited other local fire departments to assist with the show for safety reasons.
To see the entire schedule of events, visit Cleveland Town on Facebook.