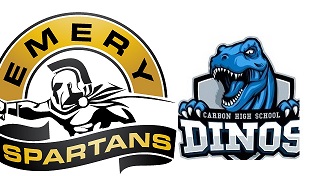 For the second and final time this regular season the Emery Spartans and the Carbon Dinos met on the court. Back on Sept. 21 in Castle Dale the Lady Spartans claimed a straight set win. On Tuesday night they met at the Carbon High gym on Senior Night for the Dinos and the Spartans grabbed another win this time in four sets 3-1.
Emery took set one with the final score of 25-22. Set number two belonged to Emery once more 28-26.
In set number three Carbon grabbed a 25-21 win over the Spartans but in the end it was Emery taking the fourth and final set 25-22 and winning the match.
On Wednesday morning the Utah High School Activities Association released the final rankings and the bracket for the 3A State Championship Tournament. Emery claim the No. 1 spot overall and Carbon landed in the No. 3 position, which means both of them will be back on the floor on Wednesday the 27th at Utah Valley University.
Emery will face the winner of Canyon View and Providence Hall. The Spartans haven't faced Providence Hall this season, but did face Canyon View twice since both teams are in Region 12, splitting both contest Canyon View was the only team to put a loss on Emery this season.
Carbon will await the winner of the 14/19 match-up either Richfield or Grantsville. The Dinos didn't face Grantsville, but are in the same region as Richfield and split the season series with them.