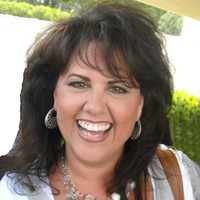 Dana Marie (Bruno) Montgomery passed away surrounded by family on September 27, 2022, after a long, hard fought battle with cancer.
She was born in San Pablo, CA on October 4, 1961, to Richard Bruno and Carolyn (Hollingshead) Miner.  She moved a lot throughout her childhood to various cities and towns from Seattle, WA to Fairview, UT.  Castle Dale, Utah is where she ended up calling home for 36 years. She attended beauty school in Orem, Utah, and during that time, she met and fell in love with her eternal companion, Scott Paul Montgomery. They were married on December 8, 1984. They were later sealed for time and all eternity in the Manti LDS Temple on January 25, 1986. She was blessed with two stepchildren, Chelsee and Dustin, whom she always claimed and loved as her own. Dana's four greatest blessings were her four children, Scotty, Michael, Lacey, and Quinn, whom she loved fiercely.
Dana was an amazing wife, mother, daughter, and friend. Family was her number one priority. She cared deeply for her children and taught them the value of family and how to be a great friend. She had a bubbly personality and loved to be around all kinds of people and enjoyed making new friends. She was a woman of strength, thought, and action. She loved traveling to California whenever she could to spend time with her in-laws, Jim and Annie. Palm Springs was one of the places that really brought her joy in life. Dana did her best to convince anyone to take her to Palm Springs one last time.
She was a beautician and ran her own salon out of her house for many years, known as Hair Raisers. If you have visited Dana's house, you know what an avid salt and pepper shaker collector she was. She collected sets from Amsterdam, Hawaii, Alaska, Italy, Mexico, and Korea and loved receiving them as gifts. She enjoyed many hobbies which included shopping, quilting, finding treasures at a local yard sale or secondhand store, and decorating her home.
She was a member of The Church of Jesus Christ of Latter-day Saints and had a testimony of her Savior and the love He has for his children.
The family would like to extend their sincere thanks to Symbii Home Health and Hospice, and a special thanks to her nurse, Tiana. They would also like to thank the Utah Cancer Specialists, Dr. Nathan Rich and Dr. Brandon Barney, and the many family members and good friends who showed their love and support with various acts of service.
Dana is survived by her husband, Scott; children, Scott Paul Montgomery II (Andraya), Michael James Montgomery (Tia), Lacey Elizabeth Montgomery, Quinn Richard Montgomery, Chelsee Young (Andy), Dustin Montgomery (Jenni); grandchildren, Darbee, Remi, Steele, Stone, Cash, Tatum, Riggs, Luxe, Ozzy, Tyler (Kayla), Jayden (Hunter), Avery, Rylee, Adyson, Piper, Simote (Keana), Tisi, Tua, Meilavi, and Taika; brothers Gary, Bobbie, Todd, and Robbie.
She was preceded in death by her mother, Carol Miner; her father, Richard Bruno; mother-in-law, Sylvia Larsen.
Funeral service, Saturday, October 1, 2022, 10:00 a.m., Castle Dale Third Ward Chapel (165 W 800 N, Castle Dale, Utah). The family will receive friends Friday evening at the church from 6-7:00 p.m. and an hour prior to the service on Saturday. Interment, Castle Dale City Cemetery. Arrangements entrusted to Mitchell Funeral Home of Price and Huntington where friends are always welcome daily and may share memories online at www.mitchellfuneralhome.net.