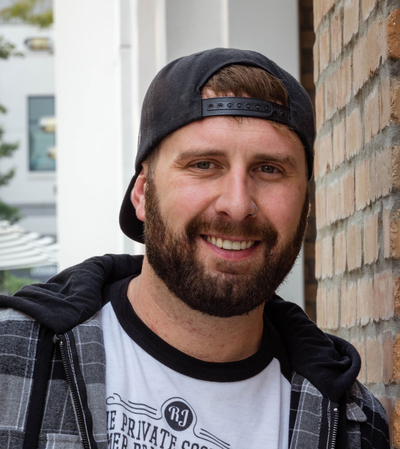 Jake William Knighton was born on January 3, 1991, in Price, UT to Kelli and Bill Arnason. At the age of five, Jake was adopted by Zeph Knighton who raised him along with his mom, Kelli. Jake moved to Layton, UT in 2015, then to South Salt Lake in 2022, where he lived until his passing. There are not enough words to describe Jake or explain the enormous presence and impact he had in this world. If anyone needed help of any kind, he was the first to open his heart, open his wallet, give his time, guide with his knowledge, fix anything that was broken or make something new and amazing for someone to enjoy. These traits are just the tip of the iceberg of who Jake was.
He was an amazing carpenter who could build everything from a firepit to a mansion and anything in between. He valued long philosophical discussions that lasted all hours of the night. He enjoyed drives into the mountains and loved to sit on his front porch to embrace the sights and sounds of a thunderstorm. His heart and soul had a unique light that shined on everyone he met. Everyone who knew him, loved him. Jake was extremely smart, talented, loving, sweet, caring, thoughtful, ambitious, athletic, goofy and a hilarious human. His kind heart, helpfulness, ambition, athleticism, and talents started as a small child. From the time he could talk, he was always the first one to help other children and made sure they were happy. When he was four years old, he discovered his love for old comedies like The 3 Stooges and I Love Lucy. Jake also loved animals very much. If it was a pet or a stray, he protected and cared for every animal that came into his life.
Jake loved the children in his life so much, especially his 6-year-old son, Ezra Knighton. Ezra was the light of his life and Jake wanted to guide him with everything he knew. Jake's biggest joy in life and most cherished moments were spending time with his precious son. He looked forward to every minute he could see him. He would make sure he always read him books at night, especially Jake's favorite Shel Silverstein poetry. Jake got Ezra their sweet little dog, Mollie Ann, and together they were a happy little family. He would drive to Price from Salt Lake just to watch Ezra in a program or take him to get ice cream. He also enjoyed coaching his little brother Drake in sports and teasing him all the time. Jake couldn't wait to help teach his nephews, Summit, and Ridge how to be as silly and chaotic as possible. Jake loved and adored his little sister, Tyler. He was always so proud of her, protective of her, and cherished every moment he had with her, especially when she was born. The day we brought her home he started taking care of her. He changed her diapers, wanted her to sleep in his room and asked if he could take her out to play. He was upset when he was told his 3-day old sister would have to grow up a little before he could take her out to play.
Jake went to Castle Heights Elementary, Mont Harmon Jr High and graduated from Carbon High in 2009. He was always a talented athlete. From a young boy through high school, he played football, basketball, and baseball. He lettered in football and basketball in high school and was even known as "High Flyin' Knighton" on the radio during the games because he had such a high vertical leap. He also snowboarded, rollerbladed, golfed with his dad, and raced BMX bikes. He was proud of the dozens of broken bones, stitches, and injuries he received as a child. He said it showed he had an awesome childhood. As an adult, he played ice hockey, golfed and rock climbed. He was also an excellent Poi spinner.
Jake's first biggest passion in life was riding his dirt bike and racing motocross. It was in his blood, and he lived for the moments he could ride his dirt bike, talk about dirt bikes, watch them in action and teach his son, brother and nephews how to ride.  He started racing when he was five years old and fell in love with the world of motocross. Jake and his family helped run CEMA for several years and he lived at the track day and night during that time. He practiced hard over the years, became an intermediate racer, and always placed. He loved all of the cherished friendships made through racing and riding. He would ride in the hills behind his house with friends and family for hours. Some of his fondest memories are the times he spent with family while at the track. He was so thankful for his grandpa Kent and uncle Victor for teaching him all about motocross, but mostly for always supporting him in whatever he did. He was also grateful for his grandma Karyn who always made sure he had food and drinks ready for him when he got off the track. Motocross fed his soul.
Jake's most recent passion in life was his stand-up comedy. Jake was a naturally hilarious person. He was the life of every party and was the center of all the entertainment. He was also the biggest smart-ass you would ever meet. When he decided to start stand-up comedy, he discovered another level of funny and making people laugh. He worked very hard at his talent and was developing a very powerful stage presence. Jake performed in many shows throughout Utah, Idaho, Wyoming, Montana, and Las Vegas. He performed at Skank Fest, which was one of his proudest moments. He was striving for excellence in the comedy world and if he had more time on this earth, there is no doubt he would have achieved his comedian goals. He told his mom she couldn't go to his shows because they were not "mom appropriate."  His mom was just happy he was so excited about his comedy.
Jake received a degree and certification in construction management from USU Eastern and had been working on a bachelor's degree in psychology from Weber State. When Jake first started in construction, he was a framer building homes and businesses in Price, then moved on to building large homes in Park City, Davis County and Salt Lake County. As years went on his job skills and leadership gave him management opportunities. Recently, he started working as an Install Manager with CP Build Enterprises. He loved his job and always said it was the best company he had ever worked for.
Jake was very proud of his five-year recovery from a heroin addiction. He became a Certified Peer Support Specialist and used his experience, knowledge, and charisma to help others get and stay sober. He enjoyed his jobs in the recovery world, especially at Brighton Recovery.  He was very respected, appreciated and loved by everyone he worked with or helped as a client.
Jake had a very broad taste in music. He truly appreciated great artists and the music they gave the world. He loved Pink Floyd, the Beatles, Above and Beyond, TOOL, The Used, Blink 182, Rob Zombie, Punk Rock, Emo, Trance, Heavy Metal, and the list continues. He loved playing his drums for hours. He even broke his drumsticks he played them so long. He always had a set of headphones in his ears listening to music or a favorite podcast. Jake, his sister, mom, and many friends enjoyed going to concerts together.
Jake also enjoyed collecting stickers, something he started doing as a child. If you knew Jake, you knew this about him. As a child, he had several hundred he collected. He ended up turning those all into a coffee table once he moved out on his own.
Jake was also a remarkable cook. Anyone who had the pleasure of having food prepared for them by Jake will never forget his culinary masterpieces.
Nothing takes away the pain of losing our daddy, son, grandson, brother, nephew, cousin, and friend. Our hearts are broken. The deep pain we feel is the result of the deep love we felt and will always feel for him. Our sadness will be replaced with the knowledge we will meet again someday in a joyous reunion. Meanwhile, he lives on in all of us.
Jake is survived by his son, Ezra; mom, Kelli (Matt) Squires; sister, Tyler (Canyon) Kelley; brother, Drake Squires; nephews, Summit and Ridge Kelley; grandparents, Kent and Karyn Gilbert; uncle, Victor (Lisa) Turner; cousins. Isabella and Dean Turner; biological dad, Bill Arnason; grandpa, Jack Arnason; so many friends, aunts, uncles, cousins and his special dog, Mollie Ann.
He was preceded in death by his dad, Zeph Knighton; grandpa, Ray "Sonny" Turner; grandma, Cathy Arnason; great-grandparents, Guido and Dorothy Rachiele, Ralph and Shirley Gilbert, Ray Turner Sr.; uncle, Phillip Turner; aunt, Cori Hoggatt; best friend, Scott Larsen; and special pets, Sage, Sasha, and Tia; along with several cats, rabbits, lizards, and snakes.
Funeral service, Friday, June 2, 2023, 2:00 p.m., Mitchell Funeral Home (233 East Main Street) in Price where the family will receive friends one hour prior to the service. Friends are welcome at Mitchell Funeral Home Thursday from 2-8:00 p.m. Interment, Cliffview Cemetery, Price. Arrangements entrusted to Mitchell Funeral Home where friends are welcome to share memories of Jake at www.mitchellfuneralhome.net.