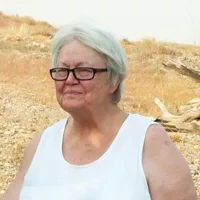 Sherry Ann Robertson passed away peacefully in her home on Monday, September 11, 2023, in Price, Utah.
She was born January 21, 1949, in Amarillo, Texas to Floyd Griffin and Reba Dell Cope Nobles. Sherry was the eldest of six children. In 1959, the family left Texas to move to Shiprock, New Mexico and in 1964 moved to Towaoc, Colorado.
Sherry married Donald Smith in Cortez, Colorado in 1967. They had two children, David and Stephenie. Sherry and Donald would later divorce. She then married Leon De Schutter in Bakersfield, California and her third son, Tobin De Schutter, was born. Sherry relocated to Utah in 2019 to be closer to her sister, Kathy.
Sherry held many jobs during her lifetime, her favorites being a civilian employee for the Fort Worth Police Department and a social worker for Workforce Services in the Houston and Corpus Christi areas. While in Price, Sherry loved spending time as a Pink Lady at Castleview Hospital. Her constant companion was her dog, Missy. She spent many holidays and family events with her extended family in Price.
Sherry is survived by her children, David (Alison) Smith, Copperas Cove, Texas Stephenie Smith, Houston, Texas and Tobin DeSchutter, Springfield, Oregon; 11 grandchildren; siblings, Katharine Butler, Price, Utah, Gary (Susan) Nobles, Portman, Texas, Toni (Vernon) Burton, Alvarado, Texas, Teresa (Larry) Craven, Woodbine, Georgia; and sister-in-law, Rhonda Nobles, Armstrong, Iowa; plus several nieces and nephews, including her special nephew, Kelly (Kara) Maynes, who helped take care of her after her move to Utah.
She is preceded in death by her mother and father, and youngest brother, Larry Nobles.
Memorial service, Friday, September 22, 2023, 10:00 a.m., where the family will receive friends one hour prior to the service. A graveside service will be held in Fort Worth, TX at a later date. Arrangements entrusted to Mitchell Funeral Home of Price and Huntington where friends are always welcome daily and may share memories of Sherry online at www.mitchellfuneralhome.net.
The family wishes to extend a heartfelt thank you to the Price City Police Department and Mitchell Funeral Home for the love and care that they have shown during this time.