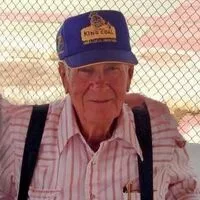 Neal Vernell Rowley, age 88, passed away peacefully in the comfort of his own home on November 12, 2023.
Vernell was born on December 7, 1934 in Huntington, Utah to Walter Neal and Esther Mildred Grange Rowley. Vernell married the love of his life, Kathaleen Davis on December 8, 1955 in the Manti Temple. They spent 68 years together.
Vernell worked for the Forest Service for 13 summers. He spent most of his life as a coal miner, retiring from Hiawatha in 1991. He also loved farming and spent many hours on the family farm.
Vernell accomplished many things in his life. He was Mayor of Huntington, President of the Historical Society. He was a member of the Church of Jesus Christ of Latter-day Saints. He enjoyed being the clerk for his ward.
Vernell had a great love of the San Rafael Swell and he was actively involved in preserving Emery County's history and heritage. He was instrumental in providing vast knowledge of the Spanish Trail and placed the trail markers. He helped rededicate the Swinging Bridge. He provided information for brochures and historical land markers. He not only passed his knowledge on to the community, but instilled his love for the desert and history to his family.
Vernell loved going on adventures and exploring. He was never without his camera, GPS, and notebooks full of coordinates. Geocaching was one of his favorite pastimes. He had a love for all things nature: hunting, trapping, rock hunting, and plant identification.
Vernell is survived by his loving wife, Kathaleen, Huntington; 3 children, Karen Mikkelson, Cottonwood Heights; Chris (Virginia) Rowley, Huntington; Lisa (Paul) Pickering, West Jordan; sister, Esther Jane Tucker, Huntington; 13 grandchildren and 20 great grandchildren. He is preceded in death by his parents, Walter Neal Rowley and Esther Mildred Grange and a granddaughter, ChrisAnn Rowley.
Funeral service Thursday, November 16, 2023, 11:00 a.m., Huntington Stake Center, where the family will receive friends beginning at 9:00 a.m. Interment Huntington City Cemetery. Arrangements entrusted to Mitchell Funeral Home of Price and Huntington where friends are always welcome daily and may share memories of Vernell at www.mitchellfuneralhome.net.