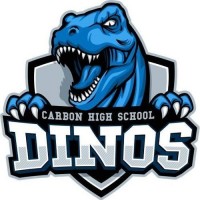 The Carbon Dinos boys basketball squad suffered a season ending 73-52 loss to the Logan Grizzlies Saturday evening on the road in the opening round of the 3A state tournament.
Qualifying for the state competition as the No. 3 seed from Region 12, the Dinos had the daunting task of traveling on the road to meet the No. 2 seed from Region 11. Carbon struggled to slow down Logan from the beginning, ultimately falling by 21 points.
Senior Cole Fossat posted a team best 10 points in his first game in over six weeks. Missing the entire region portion of the season because of an injury suffered in practice, Fossat knocked down two shots from behind the arc. Mitch Olson and Brad Williams both finished with seven points in the season finale.
Jason Anderson led the Grizzlies with 20 points, two rebounds, two assists and two steals. Rylan Jones just missed out on a double-double finishing with 13 points and eight boards. Jared Bagley scored 12 points and Cody Brimhall finished with 10 as four players reached double-figures for Logan.
Carbon managed to stay within striking distance of Logan throughout the first quarter, trailing 19-12 going into the second stanza. Outscored once again in the second, the Dinos were faced with a 32-19 deficit at the break. The final 16 minutes were a similar story as Logan eventually earned the win, advancing to the quarterfinals.
Saturday's loss ends a promising season that saw Carbon win their first Region 12 contests in two seasons. With six seniors on the roster, the Dinos showed tremendous growth as they posted a final record of 12-13 overall, and 3-5 in region play.
Stay tuned to Castle Country Radio for a complete season recap in the coming days.