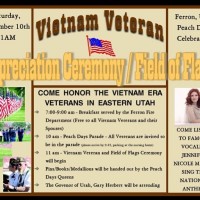 This year the Peach Days committee is taking some time to appreciate and recognize Vietnam Veterans in Eastern Utah on Saturday, September 10 in Ferron.
The day will kick off with a delicious breakfast at 7:00 am till 9:00 am served by the Ferron Fire Department; the meal will be free to Vietnam Veterans and their spouses.
After breakfast Veterans are invited to participate in the annual Peach Days parade at 10:00 am, those interested will need to arrive by 9:45 pm and parking is available at the Nursing home.
Following the parade approximately at 11:00 am, Veterans and members of the public are invited to the Field of Flags Ceremony which is located at the Church Park at State Street Mill Road. Special guests include Jennifer Nicole Marco who will be singing the National Anthem and The Governor of Utah Gary Herbert will say a few words at the event.
For more information about the Vietnam Veteran Appreciation Ceremony call City Hall at (435) 384-2350