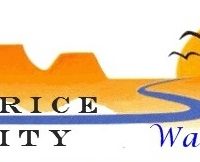 Price City has been busy with on-going and upcoming projects for the betterment of the community. Castle Country Radio was able to talk with one of the newest Council Members, Amy Knott-Jespersen about all the great things happening.
"We are currently working on redoing our website, making it more up to date and more twenty-first century and so that is a huge project that we are undergoing right now," stated Knott-Jespersen. "But definitely on our Facebook page, we try to keep that update with everything that is going on. So, that is a source of information for a lot of people. So, I want to refer people to our Facebook page." Other city pages that may be of some interest to residents is Price City Police Department and Price City Library.
This year's Price City International Days will take place on July 26 through July 28, with event organizers currently working on providing another successful year. "So, what we are looking for now are sponsorships. What we would like to do differently this year is to get more local businesses to have booths at our International Days," said Knott-Jespersen. This is a perfect chance for businesses to sell their products, increase exposure to the community, all the while being part of the annual city's celebration in Washington Park. Click here for the Internatioanl-Days-Booth-Application
Many citizens may have noticed that there are road construction projects taking place in areas of the city. "Anybody who drives through Price City knows that we got some roads that are kind of challenging. We would love to have every single road beautiful repaved but we kind of work on one project at a time, make sure we have the funding for that," said Knott-Jespersen. Currently, workers are working on the Mead Wash reconstruction, which is said to be completed in 30 days. The next project to take place will be on 100 South, where the road will be dug up between 300 East to 700 East, it will receive an update to utilities and then the road will be repaved. The project that took place on 800 North earlier did receive a lot of flood control work, part of the road received some patchwork, that will now be repaved. The city would like to thank its citizens for being patient through the reconstruction process.
Recently, the Utah Permanent Community Impact Board (CIB) granted Price City enough money in half grant and half loan to build a Carbon High School baseball field.
A total of $3.1 million will be awarded to the city in June of this year at which time constriction on the new facility can begin. The city hopes that the new addition will help boost the local economy by enabling another venue to host baseball tournaments.
To keep informed about Price City, community members are invited to attend the City Council Meetings held on the second and fourth Wednesdays of the month at 5:30 pm inside the chambers located at 185 East Main.