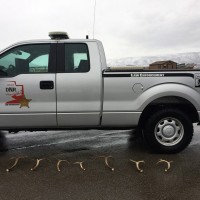 It's that time again to apply for a permit to hunt big game in Utah for this year's fall season. To be included in the draw for permits applications are currently being accepted at www.wildlife.utah.gov till March 7.
"The first thing I would recommend is to get a guidebook, there's an application guidebook. You can either get a paper copy at the division office right here in Price or at a number of sporting goods stores, Walmart has some as well. Pick up a guidebook you can look through it at all the different hunts that Utah has to offer," stated Conservation Outreach Manager, Morgan Jacobsen. The guidebook contains information you must know to hunt or fish in the state of Utah. An electronic version can be downloaded at https://wildlife.utah.gov/hunting-in-utah/guidebooks.html
If you are changing things up and thinking about hunting in a new area there is an interactive, online map tool that can be used. "If you go on our website www.wildlife.utah.gov/huntplanner that's a really cool feature on our website that allows you to look at hunt boundaries and season dates and different species and weapon types, just kind of hone in your preferences on what kind of hunt you are looking for," explained Jacobsen. DWR biologists keep the Hunt Planner up to date with the details that hunters pay attention to, it works best on a desktop or laptop computer. Any questions about Big Game Hunts call the Utah Hunt Application office at (800) 221-0659.
Any hunters that plan to gather shed antlers from deer, elk and moose between February 1 through April 15 must take a free online course beforehand. "That ethics course is free, you just go online and it talks about the importance of winter range and respect for wildlife, things like that. You can go on to www.wildlife.utah.gov/shedantler to take that ethics course," said Jacobsen. Upon completion of the course individuals will need to print their Certificate of Completion and carry it with them at all times as they are out gathering shed antlers.
"Another thing to remember is if you find antlers that are still attached to the skull plate you are not allowed to pick those up without consulting a Conservation Officer. The Officer will come out and verify that the animal wasn't taken by poaching or taken illegally and you may be able to keep that skull," stated Jacobsen. Individuals are reminded to not pick up or move the skull, or disturb footprints or other evidence. Instead, take photos of the skull from a couple of angles, pinpoint the location of the skull with GPS coordinates and share any key details when its reported to the DWR officials.
Any questions about gathering shed antlers in Utah call the nearest Division of Wildlife Resource office.