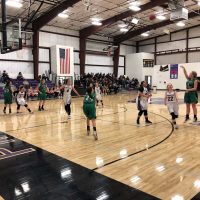 The Green River and Pinnacle girls basketball squads met on the court Tuesday night in Price. It would stay close early but the Pirates would build a lead in the third quarter that despite the Panthers best efforts could not be overcome and Green River would snatch the 10 point victory 43-33.
This was the first meeting of the two teams this season and to look at the two teams records they are almost identical. Following the victory the Pirates sit at 6-8, 1-1 in region play and #13 in the 1A State RPI. Pinnacle now sits at 7-7, 0-1 in region play and #15 in the RPI. Whenever these two teams meet-up it will definitely be an entertaining contest.
In the first half the two teams played almost even with Green River taking a 19-12 advantage into the locker room. The third quarter would be where the Pirates would take over outscoring the Panthers 20-9, the Panthers would come back in the fourth quarter but it would prove to be too little, too late.
Talynn Lovato would score a game high 29 for the Pirates. Abigail Erwin added eight and the trio of Brooquelyn Knight, Morgan Bastian and Rilee Alvarado would score two points each.
For the Panthers Stephanie Sasser scored 18 with Kemery Stuckenschneider adding eight and Lizvet Pinal and Alyssa MacDonald both had three.
Up next for Green River is a road game against Wendover on Friday. They will then have a lengthy stretch away from home and will welcome Wendover to Green River on February 1.
The Panthers will take some time away from the court and will return to the hardwood on January 21 when they will face Grand in a non-region game. Pinnacle will then head to Whitehorse to play the Raiders on January 24. Whitehorse is the #1 team in 1A.
Check in with Castle Country Radio for the latest updates on Green River and Pinnacle athletics as they become available.