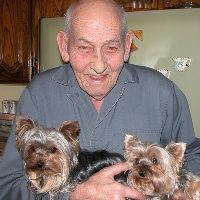 Our beloved father, grandfather and brother, Leigh "Chris" Christiansen, age 96, quietly passed away June 17, 2020 at home surrounded by his family.
He was born February 1, 1924 in Castle Dale, Utah to Dorian and Belinda Ottosen Christiansen.
Leigh served in the U.S. Navy from 1943 to 1946 and was very proud to have served his country.
He loved truck driving, fishing and hunting.  He enjoyed spending time with his two little yorkies Parker and Ozzy, they were the love of his life.  Leigh married three times and divorced.  Twice he married Beverly Jones Christiansen.  She died March 15, 2004.
He had two very special friends that loved him dearly, Bonnie Kirkway and Trudy Markosek.
The family wishes to extend a special thanks to Symbii Home Health for the special care they gave our dad.
He is survived by, Gaylynn (Bill) Bird, Dan (Heather) Christiansen, Vickie Christiansen, Amber (Jay) Perkins, Carla Harris, Randy (Susan) Watson, Chance Christiansen, Debbie (Frenchie) Bouchard; sisters, Marie Anderson, Ilbelle Bell; many grandchildren, great grandchildren and great great grandchildren.
Preceded in death by his parents; sisters, Lucille Fillmore, Nona Seely; daughter, Tina Christiansen; son, Butch Christiansen; step daughters, Lacie Zele, Wanda Clough, Jeani Baxter and Pam Moody.
Funeral service, Monday, June 22, 2020, 11:00 a.m., Mitchell Funeral Home where the family will receive friends one hour prior to service.  Interment, Cliffview Cemetery.  Arrangements entrusted to Mitchell Funeral Home of Price where friends are always welcome daily and may share memories online at www.mitchellfuneralhome.net