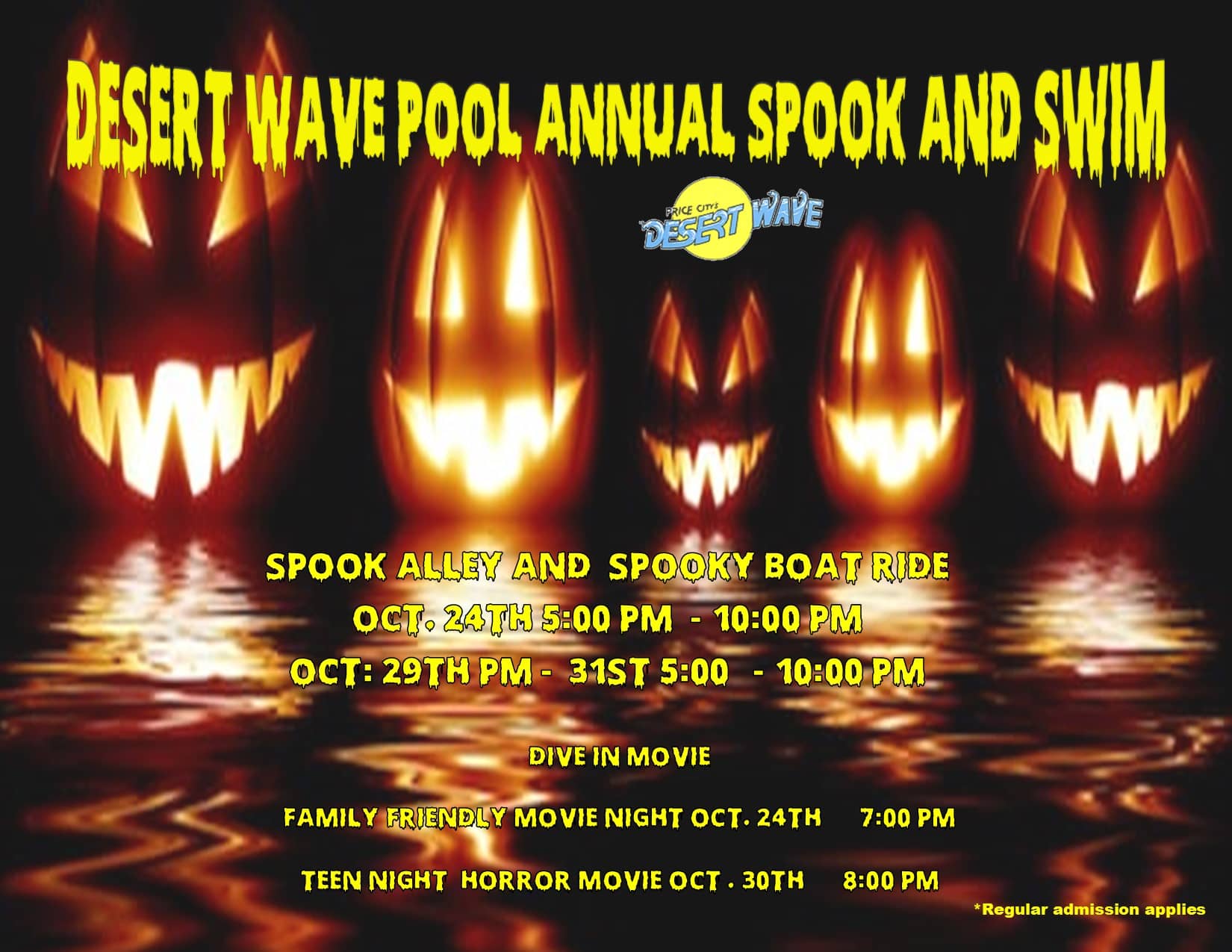 The Desert Wave Pool is excited to be hosting their annual Spook and Swim event on October 24 and October 29 through October 31 from 5:00 pm to 10:00 pm. Aquatics Director, Tamara Gray was eager to share all the details with Castle Country Radio listeners.
"It will begin on October 24, we're open all day for swimming. We will start the spook alley and the spooky boat ride, think that keeps us original because of the spooky boat ride, as well as our spook alley, as well as the pool being open. So you can swim, go through the spook alley, then go swim again. So that will start on October 24, the spook alley runs from 5:00 pm to 10:00 pm and then we'll start again on October 29 through the 31st," said Gray. The cost to participate is regular admission prices, adults $4.00, and children 4-11 years old $3.00.
The swimming pool will also host a Dive-In Movie with some Halloween themed movies on the bubble during the event. "We will be doing two movies this year. We're going to do a family-friendly movie on October 24 and that will start at 7:00 pm. Then we're kind of going to gear more towards horror teen night movie on October 30 and that one will start at 8:00 pm," stated Gray. It is not known exactly what movies will be shown at this time but as the event gets closer details will be shared via the Desert Wave Pool Facebook page.
Another session of swim lessons is set to begin on October 12. "We have our next session of swim lessons that will begin on Monday. They are Mondays and Wednesdays or Tuesdays and Thursdays depending on the level. We have them scheduled so give us a call, there's limited space, so call as soon as you can. We do get some classes that fill up, so give us a call and we'll put you down for the level you need," explained Gray. The cost to participate in swim lessons is $35.00 per session.
Finally, Desert Wave Pool wanted to remind folks that they will be open during the school district's Fall Break on October 15 and October 16. "With school being out and it might be getting colder from what I hear, we will be open all day on that Thursday and Friday, and Saturday but on Saturday we are open from noon to 8:00 pm anyways, but that Thursday and Friday we will be open from noon till 8:00 pm. So you'll have somewhere warm to swim," stated Gray.
To keep informed on all the fun activities taking place at the Desert Wave Pool visit their Facebook page.