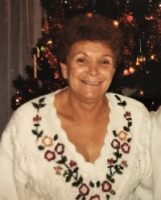 Joan Snyder, aged 87, passed away peacefully on October 21, 2020, at Good Life Senior Living in Price.
She was born September 4, 1933, to Joseph and Grace Ann Wareham Fredrickson. Married Bill Snyder; later divorced. Together they had four children.
Joan loved hummingbirds, her lilac bush and trumpet vine. She had a green thumb and enjoyed her many houseplants, especially her Christmas cacti. Joan delighted many with her wonderful culinary skills and fed many more on her homemade bread. She loved to read anything she could get her hands on, but especially anything written by James Patterson.
She is survived by her children, Corinne (Larry) Evans, Wellington, Chan (Torie) Snyder, Price, Allison (Brian) Lea, Stansbury Park, Joni (Kory) Moosman, Wellington; nine grandchildren and three great-grandchildren.
Preceded in death by her parents; brothers, Ardell and Joseph Craig Fredrickson; sisters, Janet Fredrickson and Karen Pecharich.
A special thanks to Good Life Senior Living of Price for its kind and compassionate care the past two years. And to Dr. Sterling Potter, who has been her dedicated doctor for the last 30-plus years.
Per Joan's wishes, there will be no services. Burial will take place in in the Ferron City Cemetery on Tuesday, October 27, 2020.