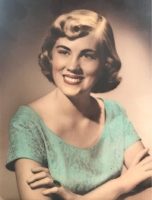 Sherril Dean Burge passed away peacefully on November 16, 2020 in Price, Utah of natural causes.
She was born in Prescott, Arizona on January 1, 1939, to Milford and Rilla Coombs Johnson. She was raised in Phoenix. Her parents and sister, Lila Kaye Legler preceded her in death.
She met Donald Burge while attending BYU. They were married on January 5, 1956, and, shortly thereafter, moved to Price where they raised their family. Her passions included reading, writing, painting, dancing, socializing, participating in politics, and spending time with her family. Sherril accepted everybody and without judgement. Her home was full of love and laughter. She graduated from the College of Eastern Utah and later received a degree in psychology from Utah State University in 1996.
She spent her life helping people, personally and in her work and volunteer activities. A partial list follows: State Mental Health Board, Director of the College of Eastern Utah's VISTA Project/Affirmative Action Program, Assistant Director of Youth Services Bureau at Four Corners Mental Health, Library Board, Castleview Hospital Board, Housing Authority Director, Manager of CEU Women's Resource Center, Turning Point Director, Teen Parenting teacher, Chairman of Active Re-entry Board, and member of Martin Luther King Jr. Commission.
She is survived by her husband, Donald Burge; her four children, Jackie Litizzette of Logan, Bob Burge of Price, Steven Burge (Denette) of Salt Lake City, and Sherida Burge of Price; grandchildren, Erica, Ashley, Jordan, and Krista Burge, Marquis (Denali) Newman, Tony, Nick (Nicole), and Mike Litizzette. Throughout her life she had many special friends whom she cherished.
The family would like to thank all of her compassionate caregivers, doctors and friends at the Heirloom Inn, especially Shauna O'Brien, as well as those at Pinnacle Nursing and Rehabilitation and Symbii Home Health and Hospice. In lieu of flowers, please donate to a food bank in your area.
Funeral service, Saturday, November 21, 2020, 11:00 a.m., Mitchell Funeral Home where the family will receive friends beginning at 9:30 a.m.  Burial will be in the Cliffview Cemetery in Price.  Arrangements entrusted to Mitchell Funeral Home where friends are always welcome daily and may share memories of Sherril online at www.mitchellfuneralhome.net