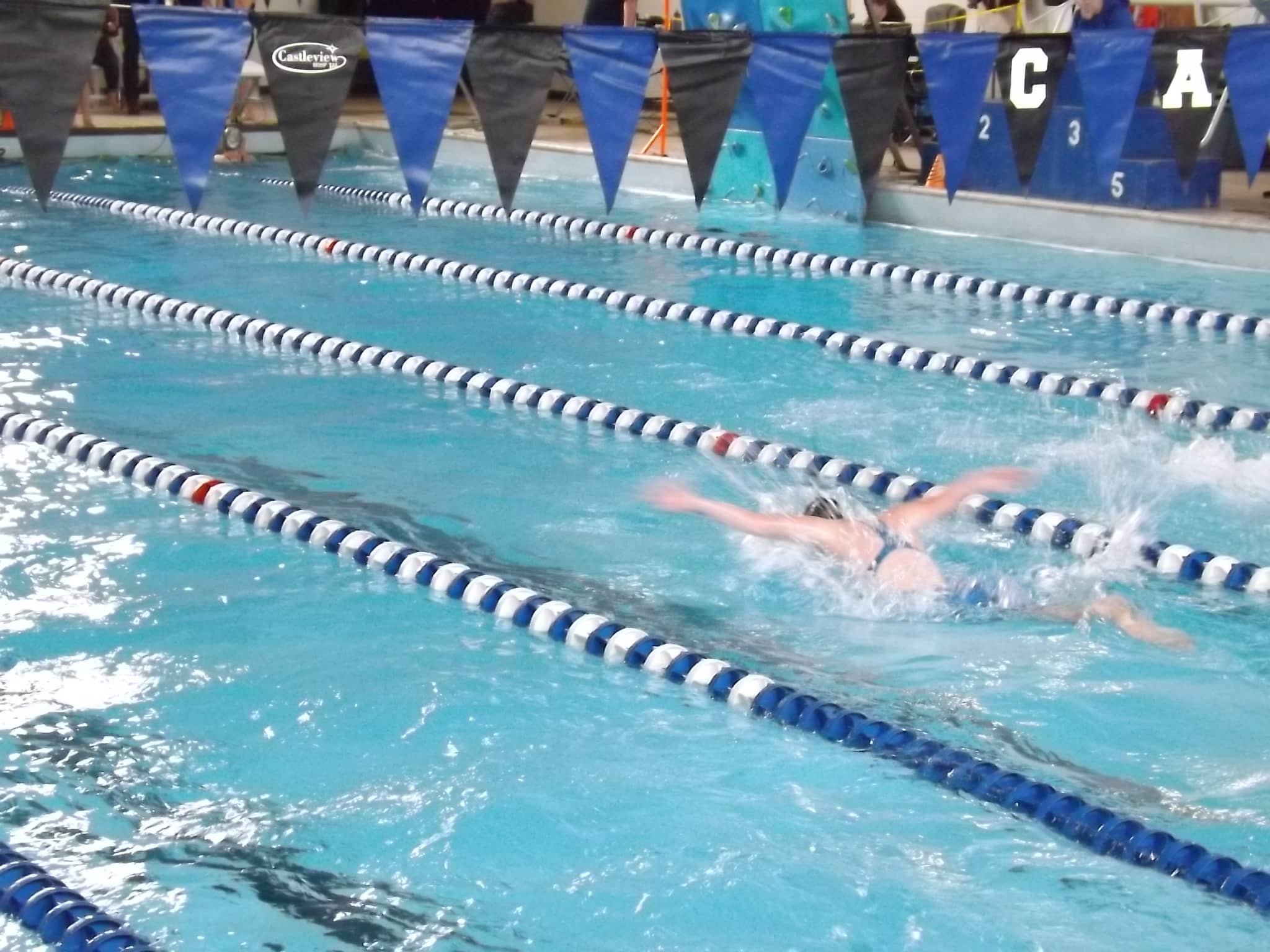 The Dino swim teams got back to the water last weekend in Cedar City. The Carbon swimmers head in to the home stretch of their season with the State Championships coming up next month.
Both teams finished strong at the Invitational, but when all was said and done the host team Cedar City High School would claim the top spot in both men's and women's divisions. For the Dinos, the ladies would finish in second and the men fourth.
For the ladies the team of Nicole Swasey, Tyrca Jaramillo, Sofia Crompton and Alyssa Chamberlain would take second place with a time of 204.8 in the 200 yard medley relay. In the 200 yard free relay Chamberlain would team up with Haylie Powell Sofia Crompton and Thalyn Lyman for another second place finish with a time of 1:49.90. And in the 400 yard free relay it was Chamberlain, Powell Lyman and Jaramillo combining for a time of 4:15.09 which was enough for third place.
Individually Alyssa Chamberlain would take second place in the 50 yard fee with a time of 27.76 and team mate Hailey Powell close behind with 27.95. Tyrca Jaramillo claimed second in the 100 yard breaststroke finishing at 1:15.15 and Nicole Swasey finished in fourth with 1:17.3, Jaramillo would also take third in the 100 yard free coming in at 1:03.38. The 100 yard fly would see Sofia Crompton end in fourth at 1:12.75 and Nicole Swasey also finished in fourth with a time of 2:43.66 in the 200 yard IM.
On the men's side Gabe Ibanez continued his tear as he took first place in the 100 yard fly with a time of 1:00.21, Ibanez would also claim third place in the 200 yard IM coming in at 2:23.90. Camden Chamberlain completed the 500 yard free with a time of 5:38.61 which put him in third place.
In the men's relay's, the team of Boyd Bradford, Nathan Engar, Gabe Ibanez and Spencer Tullis claim second in the 200 yard medley with a time of 2:01.73 and Camden Chamberlain joined Tullis , Bradford and Ibanez for a third place finish in the 400 free relay.
The Dinos will take to the pool again on January 20 when they will be on the road in Vernal. Their next home tournament will be on January 23.
Below are the final scores for men and women:
Men
| | |
| --- | --- |
| School | Points |
| Cedar City | 503 |
| Emery | 309 |
| Uintah | 306 |
| Carbon | 246 |
| Millard | 209 |
| Gunnison Valley | 98 |
| South Sevier | 93 |
| North Sevier | 28 |
Women
| | |
| --- | --- |
| School | Points |
| Cedar City | 447 |
| Carbon | 381 |
| Uintah | 296 |
| Emery | 279 |
| Millard | 277 |
| Gunnison Valley | 69 |
| South Sevier | 2 |