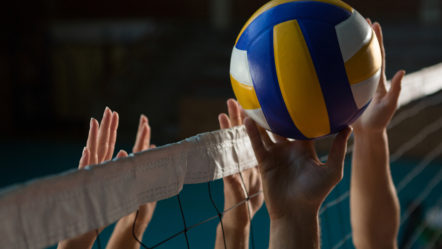 The Utah High School Activities Association released the RPI for volleyball on Saturday. And at the mid-point of the regular season  both the Lady Pirates of Green River and the Pinnacle Lady Panthers continue the push to the playoffs. The RPI will be used to set the field when the 1A State Tournament rolls around in October. In the initial poll Green River is sitting at No. 8 with Pinnacle sitting in the No. 20 spot.
Intermountain Christian grabbed the top spot followed by Rich, Monument Valley, Panguitch and Escalante rounding out the top five.
Green River is coming off of a straight set loss to Monticello last week, the week before they had back to back wins against Pinnacle and Whitehorse.  Green River holds a 5-6 record overall and 2-1 league mark. Up next is a non-region road contest with Bryce Valley. They return home to face Whitehorse on Friday at 3:15.
The Panthers are coming off a striaght set loss at the hands of Bryce Valley. Sitting at 2-9 and 0-1 in league play, Pinnacle has been struggling late losing their last six contests. They will look to turn things around on Thursday when they face Monticello in Price at 6:45.
The RPI standings are determined by three statistically categories:
*MWP (Modified Winning Percentage): Divide the number of possible points by the number of total available points from games played accounting for the adjustment between classifications.
*OWP (Opponents Winning Percentage): Average of the winning percentage of a team's opponent.
*OOWP (Opponents' Opponents Winning Percentage): Same process as OWP except the calculation is with the opponents of the team's opponent.
Below are the complete RPI rankings:
| Rank | School | RPI | WP | OWP | OOWP | |
| --- | --- | --- | --- | --- | --- | --- |
| 1 | Intermountain Christian | 0.777640 | 1.173077 | 0.438631 | 0.523714 | 13-0 |
| 2 | Rich | 0.698052 | 0.750000 | 0.687540 | 0.511585 | 5-3 |
| 3 | Monument Valley | 0.652625 | 0.750000 | 0.604167 | 0.432500 | 2-1 |
| 4 | Panguitch | 0.641554 | 0.892857 | 0.425063 | 0.484893 | 12-2 |
| 5 | Escalante | 0.639989 | 0.863636 | 0.453952 | 0.470740 | 9-2 |
| 6 | Piute | 0.564498 | 0.625000 | 0.521907 | 0.483896 | 5-3 |
| 7 | Tabiona | 0.545816 | 0.800000 | 0.307468 | 0.474559 | 4-1 |
| 8 | Green River | 0.480340 | 0.454545 | 0.528914 | 0.377835 | 5-6 |
| 9 | Milford | 0.476376 | 0.500000 | 0.452249 | 0.478635 | 5-5 |
| 10 | Tintic | 0.456543 | 0.500000 | 0.430754 | 0.377039 | 2-2 |
| 11 | Altamont | 0.448120 | 0.250000 | 0.633626 | 0.504881 | 2-6 |
| 12 | Wendover | 0.434554 | 0.583333 | 0.275397 | 0.481257 | 5-4 |
| 13 | Valley | 0.402354 | 0.214286 | 0.571433 | 0.487804 | 3-11 |
| 14 | Monticello | 0.401966 | 0.307692 | 0.480318 | 0.473609 | 4-9 |
| 15 | Wayne | 0.401065 | 0.285714 | 0.501640 | 0.467561 | 2-5 |
| 16 | Manila | 0.335638 | 0.222222 | 0.452712 | 0.319177 | 2-7 |
| 17 | Bryce Valley | 0.311947 | 0.227273 | 0.363060 | 0.462976 | 2-9 |
| 18 | Water Canyon | 0.277057 | 0.111111 | 0.403743 | 0.453725 | 1-8 |
| 19 | Whitehorse | 0.271474 | 0.250000 | 0.271667 | 0.367241 | 1-4 |
| 20 | Pinnacle | 0.255849 | 0.181818 | 0.287972 | 0.444428 | 2-9 |
| 21 | Dugway | 0.243869 | 0.000000 | 0.454924 | 0.391535 | 0-7 |
| 22 | Diamond Ranch Academy | 0.242061 | 0.000000 | 0.443020 | 0.427019 | 0-3 |
| 23 | Mount Vernon | 0.146609 | 0.000000 | 0.223214 | 0.461629 | 0-4 |