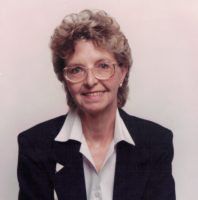 "Kay" born September 8, 1940 passed to her Heavenly Father after a struggle with Alzheimer's on October 6, 2021. This sweet, wonderful woman was born and raised in Springville, Utah to the parents of Kenneth and Leora Ostler. She was widowed and married to Ferris Daniel Earley for 53 years and sealed in the LDS Temple. Kay was so proud of her family and raised 6 children. Russel Earley, born March 7, 1958 (children Trista Kae and Mica Marie). Wade Earley, born December 15,1958 (daughters Ashely and Kayla). Julie Earley, born January 17, 1961 (boys Justin and Jason). Glenn Earley, born October 5, 1963 (boys Trevor and twins Ryan and Dominic). Lisa Cox, born October 18,1964 (girls Courtney and Hailey) was married to Les Cox of Orangeville. Brad Earley, born June 5, 1975 married Nikki from Vernal, Utah and have a daughter Kenzie.
Kay graduated from the College of Eastern Utah with a degree in accounting. Her family travelled the country a lot for her husband's work, and the family raised cattle, and other animals and had a ranch in Eastern Wyoming. Kay loved taking care of her children, she saw the best in people and liked to fish, camp, and loved all kinds of animals. She continued raising cattle in Orangeville with her son Russell. She married Ferris in 1957 in Provo, Utah.
She was kind and big hearted and proud of her kids, cared well for her husband. As a mother and wife we viewed her as having no equal. Kay also loved her parents and sisters. Her parents and sisters meant a lot to her as she was often away. Her sisters were Janet, Karen, Jalene, and Debbie. They cherished times together. She was a devoted wife, loving mother, and she was always committed to her father in heaven.
Kay's hero was her father Kenneth, a righteous man who had her at his side not only as a daughter but also his substitute boy. Her dedication to the Lord was constant and a tough act to follow. She helped those in need and you couldn't see her without being fed. Still we cannot duplicate her bread and recipes. Kay liked to read, write books (3), poems, loved painting and sought answers in scripture. She loved any baby, animal or human. She canned, gardened sewed, worked on genealogy and was loved by all who knew her. She lived a clean life and a true example of kindness and love. The Lord was her light and kids her pride.
Mom will severely be missed by many. Few live such a devoted and giving life. Kay had 13 grandchildren, and 6 great grandchildren. She was quick to smile, joke, reassure and inspire. In her day Kay and Ferris were good dancers and a lot of fun. She would spend hours chatting with her sisters, she loved them dearly. Her light will be missed until we see her again. She reminded us all of our obligation to the Lord, her devotion to her religion was timeless. She was indeed a special lady, sweet, loving and also tough. We are sure she has a special place in heaven. She was also known as Aunt Kay to several, Tray Beebe being another special one to her. Also saved an adopted girl from peril. She influenced so many and taught us right.
A viewing will be held Thursday, October 14, 2021 from 10:00 am – 10:45 am at the Orangeville LDS Chapel, 100 South 50 West.  Funeral services will follow at 11:00 am.  Interment will be in the Orangeville Cemetery under the direction of Fausett Mortuary.
Family and friends may sign the online guestbook and share memories of Kay at www.fausettmortuary.com.