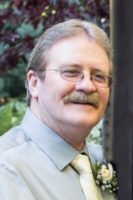 Our beloved husband, father, grandfather, brother, and dear friend, Bret Densley, 63, passed away suddenly on October 7, 2021, in Price.
He was born October 6, 1958, in Salt Lake City, UT to Dale and Betty Densley.  He married his soulmate, Kathy Ellen Stam on May 17, 1980.  They had five children and relocated from Salt Lake City to Helper approximately 35 years ago to start a new journey in their lives.  They now host a family of 9 kids counting the in-laws and 18 grandkids.
Bret was one of the greatest and kindness of men.  He was always hugging you and telling you how much he appreciated you.  He was a very long and detailed story teller and was not shy about giving you a hard time.  He was sarcastic and funny and loved to pick on anyone that he could find.  He was truly a pillar of what it takes to be an amazing dad and a dedicated husband.  Bret wrote the book on being a great family man. He instilled all those loving qualities in his children who, despite how different they all are, strive to raise their families to carry on his beliefs. He lived by the motto of "you can never have too many good people in your life" and practiced being a good person to everyone.
He was a hard worker and a great provider.  He loved to play sports (baseball being his favorite) and did so throughout high school.  He also loved cars and fishing.  Let's be honest, Bret loved many things, he was always game for a new hobby or new project.  He loved learning anything new and had no qualms about indulging in something that caught his interest.  He was a man of many talents because he tried so many new things.  He drove semi-trucks, was a photographer, flew model airplanes, was a diesel mechanic, even attempted to open a pet shop, and the list goes on.  He was accepting and loving in all that he did and his absence will surely leave an emptiness in our hearts.
Bret is survived by his loving wife, Kathy Densley; daughters, Dawn (Dustin) O'Brien, Candyce (Mike) Andrews, and Misty Densley; sons, Bret (Patricia) Densley Jr. and Daniel (Crystal) Densley;  brother, Brad (Jude) Densley; and a sister, Daylene (Rex) Morrill; 18 grandchildren and many friends (especially Castle Country OHV Association) and co-workers at Walmart.
Preceded in death by his parents, Dale and Betty Densley.
Funeral services will be held on Tuesday, October 19, 2021, at 2:00 p.m., Mitchell Funeral Home (233 E Main Street Price, UT) where family will receive friends one hour prior to service.  Interment, Mt. View Cemetery, Helper.  Arrangements entrusted to Mitchell Funeral Home where friends are welcome to share memories of Bret online at www.mitchellfuneralhome.net