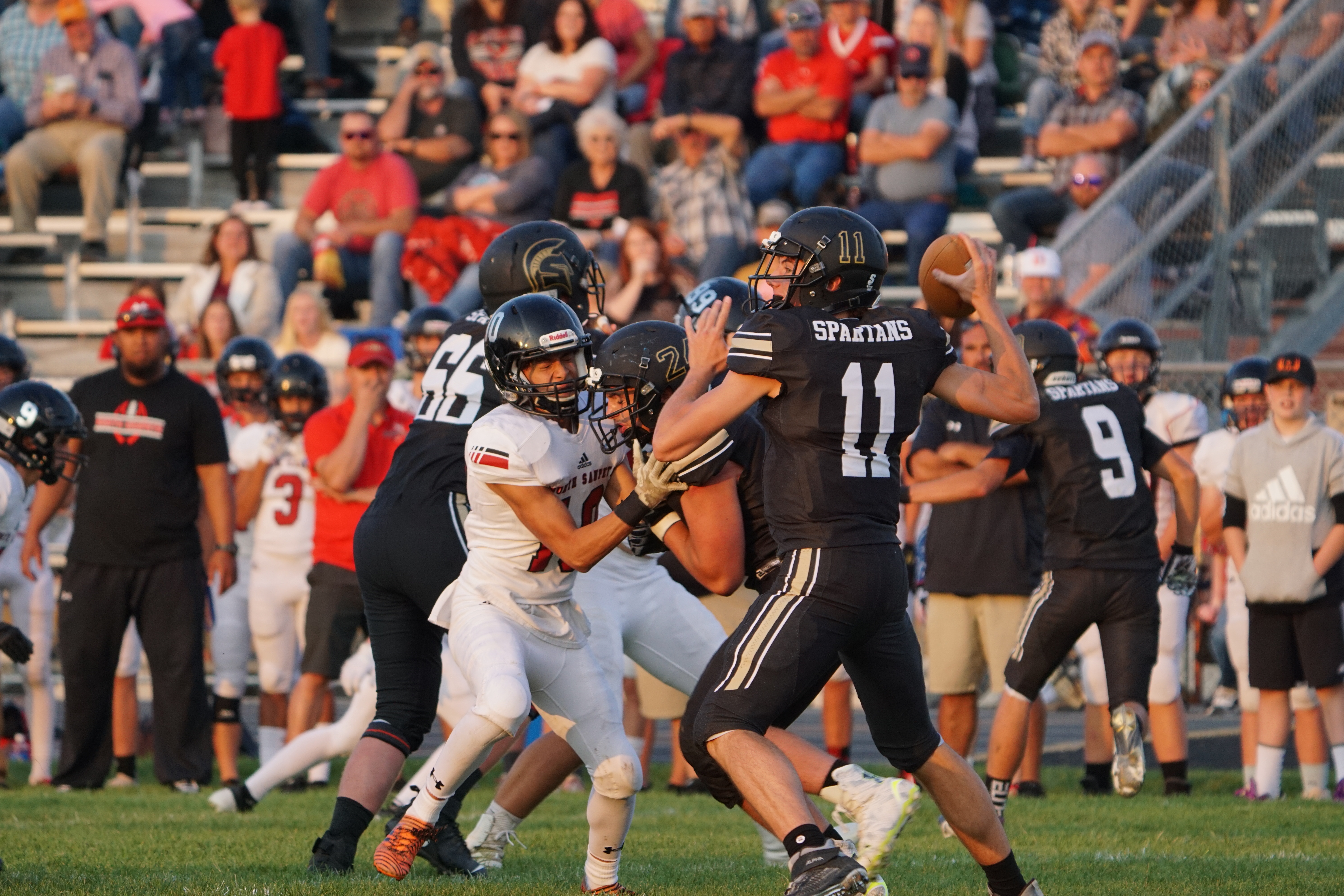 By Jose Briseno, Castle Country Radio:
The 2A High School football regular season came to a close on Friday night, setting the stage for the third and final section of the season, the State Championship Tournament.
The final RPI rankings were released Saturday morning, providing little surprise based off of Friday night's results. San Juan, South Summit, Beaver and Summit Academy made up the top four teams, giving each a bye in the opening round. Teams five-through-12 will play for a chance to advance to the final eight throughout the week.
Falling just short at home against Summit Academy on Friday, the Emery Spartans will enter the playoffs as the No. 5 seed. The first round matchup will be a favorable one for the Spartans as they'll play host to the Grand Red Devils Wednesday afternoon at 6:00 p.m..
The Delta Rabbits claimed the No. 6 seed, setting a matchup with No. 11 American Leadership Academy. No. 7 Providence Hall will face No. 10 Judge Memorial for the second time this season, while No. 8 Millard and No. 9 South Sevier will also enter a sequel Friday night.
Each team is now faced with a win-or-go home situation each time they set foot on the field. Below is a recap of what each team accomplished heading into the playoffs.

#1 San Juan Broncos- 9-1 (5-0) 2A South Champions:
San Juan comes into the postseason averaging 39.3 points per game while only allowing 18.7 points per game. The Broncos have been defensive stalwarts this season. San Juan has five players with 50 tackles or more this season. Don't let that distract you from the powerful, balanced Broncos offense. Senior quarterback Jace Palmer has thrown for over 2,000 yards, while senior running back Jensen Grover has rushed for over 870 yards.
#2 South Summit Wildcats-10-0 (5-0) 2A North Champions:
The only word that can be used to describe the Wildcats is "DOMINANT". South Summit outscored their opponents 254-63 in the first half of their 10 games this season. By definition, Quarterback Kyler Sudweeks is a true dual-threat quarterback. Sudweeks leads the team with 2,111 passing yards, a team high 977 rushing yards, 36 total touchdowns and only 9 interceptions. They truly look like the team to beat.
#3 Beaver Beavers- 9-1 (4-1) 2A South second place:
The Beavers had a very strong season in 2021. Beaver has a very strong rushing game and play a completely opposite style compared to their foe South Summit. The Beavers like to slow down the game and beat you in the trenches, they will look to wear you out and pound the football down your throats. The Beavers enter the postseason with 4 players with over 100 rushing yards.
#4 Summit Academy Bears- 6-4 (4-1) 2A North second place:
If you haven't heard the name Devin Watson before, you have now. Watson has had a stellar year for the Bears, throwing for over 3,000 yards during the regular season. The Bears are a pass heavy offense that loves to put points up on the board. Their only setback is turnovers. The Bears have turned the ball over 21 times this season. If the Bears can control turnovers, they are a very dangerous team for anyone.
#5 Emery Spartans- 5-5 (3-2) 2A North third place:
This team may be the scariest of all in 2A. Yes, the 2021 season did not start out the way the Spartans wanted it to, but with the returns of Ryker Jensen and Jace Curtis, the Spartans have finally found their stride. Over a three-game span the Spartans outscored their opponents 145-14 to close out their season. Jace Curtis, in just three games this season (due to injuries) has been a force, averaging 109.5 yards per game and two touchdowns per game as well.
#6 Delta Rabbits- 4-6 (3-2) 2A South third place:
Don't let the 3-6 record distract from the talent of this Delta team. If a few things fall in favor for the Rabbits, their record could look completely different. Senior running back Josh Jackson has accounted for over 1,300 yards rushing this season as the Rabbits have relied heavily on the ground game. The Rabbits have averaged over 274 yards per game on the ground.
#7 Providence Hall Patriots- 4-6 (2-3) 2A North fourth place:
Providence Hall was a few plays away from being 6-1 to start the season, but as we stand, the Patriots come into the postseason at 4-6 after three straight games against plus-.500 teams. The Patriots, led by quarterback Michael Scott, are looking to make a deep playoff run this postseason.
#8 Millard Eagles- 3-7 (2-3) 2A South fourth place:
The Eagles head into the 2021 postseason with a very young team. While their record may not show it, this team is better than their 3-6 record. Millard depends heavily on the play of senior quarterback James Stephenson, who leads the team with over 1,000 passing yards this season.
#9 South Sevier Rams- 2-7 (1-4) 2A South fifth place:
Carter Abraham and Grayson Friant lead this balanced team into the playoffs as they look to play spoiler top tier teams. The Rams have playmakers on both sides of the ball who will be looking to put together the game of the year in the first round of the playoffs. If South Sevier can stay away from the turnover bug, they will be looking for an upset in the opening round.
#10 Judge Memorial Bulldogs- 1-8 (1-4) 2A North fifth place:
The Bulldogs had to front an extremely difficult schedule this season and it didn't get it any easier as they had to play four of the top 2A schools in as many weeks. They finished the season with a win against ALA, ensuring that this season would not end winless. Connor Marland and Thomas Chadwick lead a hungry Bulldog offense.
#11 American Leadership Academy Eagles- 1-9 (0-5) 2A North sixth place:
ALA is a team that has incredible talent on both sides of the ball, especially senior wide receiver and linebacker, Duncan Henstra. Henstra has totaled over 700 yards of total offense while over 120 tackles defensively. The Eagles' offense depends heavily on senior quarterback Tyrell Robertson who averages 103.6 yards through the air per game.
#12 Grand Red Devils- 0-9 (0-5) 2A South sixth place:
This has been a tough season for the Red Devils going 0-9. If you are a Red Devils fan, you should be optimistic about what the future may hold for this extremely young team. Starting quarterback Tatym Bisco is only a freshman and has much to learn and improve. This season was centered around learning for the young Grand County team.