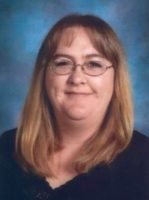 Samantha Lynn Udink Cooke, age 47, passed away October 19, 2021.
She was born in Hanford, California on August 15, 1974 to Cathy and Richard Udink and grew up in Kenilworth and Price, Utah where she lived the rest of her life.
Married Mark Cooke on December 9, 2011 in Price, Utah.
She worked at Pinnacle Canyon Academy as a Teachers Aid for 5 years, and then Carbon High as a Paraprofessional. She was an avid crafter and could make anything she tried.
Survived by her husband and companion of 22 years, Mark Cooke; mother, Cathy Udink; brother, Dennis (Traci) Udink; sister, Amanda (Jesse) Curtis; daughters, Ashley Udink, Lara Jennings, Amanda Heairet; sons, Christopher Fisher and Adrian Cooke; three grandchildren and a large extended family and friends.
Preceded in death by her father, Richard Udink; grandparents, Melvin and Donna Udink and Richard and Margaret O'Neel.
No services will be held. Arrangements entrusted to Mitchell Funeral Home where friends are welcome to share memories at www.mitchellfuneralhome.net.