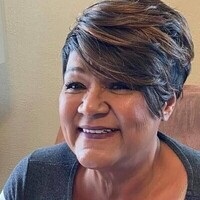 Our loving wife, mother, grandmother, sister, aunt, friend, and the matriarch of our family, Deborah "Debbie" Mae Dennis Noone, age 70, was called home to be with Jesus on May 8, 2022 after a courageous battle with Pancreatic Cancer.
Debbie was born on July 12, 1951 in Gainesville, Texas to J.W. and Ethel Dennis. At the age of six her parents moved to Price, Utah where she has resided since. Debbie is the oldest of seven children. At the young age of 18, her mother passed away. She made a promise to her mom that she would take care of her younger siblings, so without hesitation she helped her dad in raising her three brothers and three sisters. Her dad later passed away when she was 22 years old. She then became the legal guardian and mother figure to her siblings.
On December 2, 1976 Debbie married the love of her life, LeRoy "Skip" Noone Sr. They were married for 45 amazing years. Along with her siblings, Debbie and Skip raised six children together.
Debbie was a born again Christian. She had an amazing love for Jesus. She was a member of New Life Ministries for over 30 years. Debbie loved cooking and music. She had an unexplainable passionate love for her family. She loved to host family get togethers, whether it be for a holiday or just a weekend BBQ. Debbie inspired everyone she came in contact with, whether it be a kind word, her amazing wisdom, her warm loving smile, or her way of making you laugh. Debbie will be missed by all who knew her.
Debbie is survived by her loving husband, LeRoy "Skip" Noone Sr.; children, JaiLene (Shane) Lindsey, Christie Noone, LeRoy "Skipper" Noone Jr., Bruce Noone, Karla Benniot; grandchildren, Tiesha Sandoval, Shaynie (Zach) Cross, Gilbert Sandoval (Gabriella Olivias), Jaidan (Jose) Delgado, Astaysha Norton, Barbara (Joe) Gallegos, Charity Noone, Amber Livingston, Lane (Ashlyn) Pell, Bobbie Pell, Ashley (Jordan) Justice, Robert Schade, Kyle Schade, Jeremiah Noone, Bruce (Ashlyn) Noone Jr., and Seth Hanson; siblings, Bren "Nicci" Dennis (Ron Spensko), Tammy (Vincent) Chavira, Michael Dennis, Troy Dennis, Kevin Dennis, Judi (Charlie) Stonehocker; 27 great-grandchildren; and many nieces, nephews, cousins, aunts, uncles, and friends.
Preceded in death by her parents, J.W. and Ethel Dennis; grandparents, Daddy Coke and Mama Dear Fugett and Nig and Judi Dennis; son, Luke Noone; niece, Nicole Chavira; great-nephew, Jerreon Dennis; and a special friend she called sister, Jean Adams.
Debbie's family would like to extend their heartfelt thank you to Symbii Home Health and Hospice, her wonderful nurse Michaela, and her loving friend and Pastor, Andrew Lasslo. In Lieu of flowers please make donations to an account that has been set up at Utah Power Credit Union.
Memorial service, Friday, May 13, 2022, 11:00 a.m., Mitchell Funeral Home (233 East Main Street Price, Utah 84501). The family will receive friends starting at 10:00 a.m. prior to the service. Arrangements entrusted to Mitchell Funeral Home of Price and Huntington where friends are always welcome daily and may share memories of Debbie online at www.mitchellfuneralhome.net