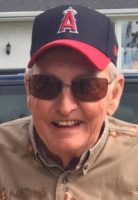 William Floyd Adams, age 79, passed away May 7, 2022 at the Good Life Senior Living in Price surrounded by his loving family.
He was born November 5, 1942 in Kanab, Utah to Floyd Gus and Gwen Heaton Adams.
Married Gaylene Jumper February 10, 1962 in Las Vegas, Nevada. She preceded him in death on August 16, 2021.
Bill was the owner and operator of Frank's Glass for 54 years.  He loved the outdoors, snowmobiling, camping and spending time at Joe's Valley. Bill was a lifetime member Price Elk's Lodge #1550 and the Masonic Lodge. He will be dearly missed by all who knew and loved him.
Survived by his daughters, Toni Lee Rife (Jerry Wells), Wellington, Mindi Lee (Travis) Madden, Price; sons-in-law, Stan Rife, Orem, Ron Cripps, Price; brother, Tom (Annie) Adams, Price; cousin/brother, Robert (Elaine) Howard, Sequim, Washington; brother-in-law, Russell (Daina) Jumper, Washington, Utah; sister-in-law, Cathy (Donny) Leonard, East Carbon; grandchildren, Chivas, Alisha (Rycklee), Ashley, Tyler, Skyler, Paisley, Nick (Charley); great-grandsons, Wiley, Hudson, the twins, Townes and Waylon, and Statler.
The family would like to extend a special thank you to Debbie/teacher for her exceptional care of Dad, along with the Good Life Senior Living and Symbii Home Health and Hospice.
Preceded in death by his parents; daughter, Teri Adams; sister, Boni Nichols; in-laws, Gailard and Bessie Jumper.
Graveside service, Monday, May 16, 2022, 11:00 a.m., Price City Cemetery.  The family will receive friends at Mitchell Funeral Home Monday morning beginning at 9:30 a.m.  Arrangements entrusted to Mitchell Funeral Home where friends are always welcome daily and may share memories online at www.mitchellfuneralhome.net.