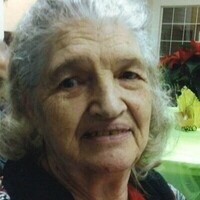 EvaLou Kaleta Brady Barney, age 86, passed away peacefully on August 8, 2022 at Goodlife Senior Living in Elmo, Utah.
Kaleta was born on December 31, 1935 in McKinnon, Wyoming to Phillip and Zelma Sherman Brady. When she was eleven years old her father was very sick and moved their family back to Huntington, Utah. Her father died a week later. Kaleta and her five younger siblings were raised by their mother.
Kaleta graduated from North Emery High School and then married Gale V. Barney on March 31, 1955 in the Manti Utah Temple. Together, they raised their family of twelve in Price, Utah until Gale's passing in December of 1986. She also lived in Green River, Wyoming and then in Roosevelt, Utah before returning to Price, Utah.
Kaleta was a devoted member of The Church of Jesus Christ of Latter-day Saints where she played the piano in primary for many years. She also enjoyed playing for the residents of Good Life Senior Living in Elmo. As a family we will miss our family photographer and bingo master. Kaleta was always proud of her large family.
The family would like to give special thanks to Goodlife Senior Living in Elmo, Utah for their love and care to mom for the last ten years.
Survived by her children, Clea (Gary) Curry, Nola (Don) Melo, Orrin Neal Barney, Leland Bert (Christy) Barney, Karla (Roy) Sepulveda, Orson (Amy) Barney, Sheldon (Windy) Barney, Marlaina (Richard) Bair, and Kirk Barney; sisters, Bertha Briggs, Martha Hilton, Venna Lewis, Ruby Westlake, and Delaina Minchey; and many grandchildren, great-grandchildren, and friends.
Preceded in death by her parents, Phillip and Zelma Sherman Brady; husband, Gale V. Barney; daughter, Karen Elaine Barney; sons, Gaylen and Stanley Barney; grandson, Dakota Lunsford; brothers, Leon Brady and Eccles Brady; and sisters, Vondella Brady and Norma Brady.
Funeral service, Saturday, August 13, 2022, 11:00 a.m., Mitchell Funeral Home (233 East Main Street, Price, Utah). The family will receive friends starting at 9:30 a.m. prior to the service. Burial will follow in the Wellington City Cemetery, Wellington, Utah. Arrangements entrusted to Mitchell Funeral Home of Price and Huntington where friends are always welcome daily and may share memories of Kaleta online at www.mitchellfuneralhome.net