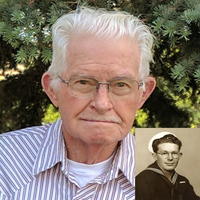 In the early morning hours of September 18, 2022, our loving father, husband, brother, uncle, grandpa, and friend left his well lived life at the age of 91. Von was born in a one room cabin in Cisco, Utah on December 7, 1930, to Wayne and Edith Johnston; he grew up literally in the wild west. He was raised to be independent and was responsible at the age of 13 for taking care of the Cisco ranch/homestead along with his little brother and side kick Vion who was ten years old at the time.
The family moved to Price, Utah in the 1940's and opened a cattle auction house where he helped raise his two little sisters Vonna and Valynda.
Von graduated from Carbon High School in 1949 and hitch hiked to Alaska because "he always wanted to go there."  When he made it back in one piece, he decided to join the Navy because he liked the uniform. Despite being seasick the entire time, he served in the Korean War and was honorably discharged after his service.
In 1953, he made the smartest decision in his life and married his true love Hazel LaRaine Henderson who survives him (and is not one bit happy about it).  He worked as a machinist at H and J supply company and then ran a small asphalt business of his own before becoming a coal miner at Plateau Mine. Von and LaRaine lovingly raised four children on a small farm in Wellington, Utah.
When he retired in the 1980's, he became busier than ever; woodworking, traveling, flyfishing, traveling to go flyfishing, blacksmithing, beading, candle making, fly tying, endless projects for his wife and family, being a mountain man, and storytelling (sometimes the stories were true).
His kind heart and ready smile will be missed by many.
Von is survived by his loving wife, LaRaine Johnston; children, Kathy (Patrick) Houghton of Carbonville, Utah, Gary (Cindy) Johnston of Orem, Utah, Ronald (Doris) Johnston of Price, Utah, and Diann (Leroy) Willow of Mesa, Colorado; 19 grandchildren; 12 great-grandchildren; two lovely great-great-granddaughters; sisters, Vonna Hamaker and Valynda (Muggs) Clark; sister-in-law, Moreen Henderson; and many nieces, nephews, and friends.
Preceded in death by his parents, Wayne and Edith Johnston; in-laws, Frank and Hazel Henderson; brother, Vion Johnston; sister-in-law, Colleen Johnston; brothers-in-law, Martin Hamaker, Larry and Wayne Henderson; and special nephew, Dwayne Johnston.
Memorial service, Saturday, September 24, 2022, 11:00 a.m., Wellington 3rd Ward Chapel (Wellington Stake Center). The family will receive friends from 10:00 – 10:45 a.m. prior to the service at the church. Burial will follow in the Wellington City Cemetery where Military Honors will be rendered by the American Legion Post #3. Arrangements entrusted to Mitchell Funeral Home of Price and Huntington where friends are always welcome daily and may share memories of Von online at www.mitchellfuneralhome.net