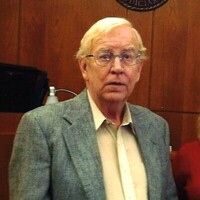 Walker Joseph Phelps, 70, passed away on November 12, 2022 after a lengthy illness.
Walker was born on May 4, 1952 in Omaha, Nebraska.  He was the first of seven children born to Dr. & Mrs. O.W. Phelps MD.
Walker was a former longtime resident of Helper and graduate of Carbon High School Class of 1970.  He later attended the College of Eastern Utah from 1971-1972.  Walker continued his schooling at Gonzaga University (Spokane, Washington) earning a Bachelor's degree in Sociology in 1975.  After completion of his schooling, Walker returned to Carbon County and worked for Braztah Corp., and later began his title search business.  From there he worked for Utah Power & Light in Carbon, Emery and the Milford, Utah plants where he was respected by all.
On August 7, 1987, Walker married Cherron White at St. Bridget's Catholic Church in Milford, Utah.  She preceded him in death on July 30, 2010.  Walker continued working with Utah Power & Light eventually working his way up to a plant controller.  He was a plant controller until he retired in 2014.  On February 5, 2015, Walker married Monica Johnson in Provo, Utah.
Walker enjoyed camping, skiing, traveling, going on cruises and trips to Mesquite, Vegas and Colorado.  He loved old western movies and was a big fan of John Wayne. Walker was a member of the Catholic Church in Helper where he served as an altar server in his youth.
He is survived by his wife, Monica Phelps, Orangeville; four sisters, Mary Phelps, Helper, Pat (Leon) Erramouspe, Price, Michaela Phelps, Hellen (Keith) Fleming,  both of Anchorage, AK; five step-children, AnnaLisa (Korey) Johnson, Emery, Spencer (Mandy) Hansen, Thornton, CO, Joebe (Jarred) Young, Surrey, BC, Quin (YuQi) Hansen, Beijing, China, Kyla Webb (Hollis Bowers), Vernal; 11 grandchildren, 3 great-grandchildren, many nieces, nephews, great-nieces,  great-nephews and many cousins across the US, Ireland and New Zealand.
Walker was preceded in death by his parents, O.W. and Terry Phelps; wife, Cherron Phelps; sisters, Theresa Ann (T'Ann) Phelps-Steele and Olivia Phelps.
The family would like to extend their heartfelt thanks and appreciation to the entire staff of Symbii Home Health and Hospice.  Your many acts of kindness and loving care was greatly appreciated by Walker and his family.
Funeral service, Thursday, November 17, 2022, 2:00 p.m., Mitchell Funeral Home (233 East Main Street) in Price.  Vigil service, Wednesday evening 6:00 p.m., Mitchell Funeral Home.  Family will receive friends at Mitchell's Wednesday and Thursday one hour prior to service.  Committal service, Mt. View Cemetery, Helper.  Arrangements entrusted to Mitchell Funeral Home where friends are welcome to share memories of Walker online at www.mitchellfuneralhome.net.