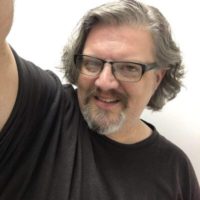 Troy Eugene Swackhammer, 52, of Helper, Utah, quietly left this world on February 25, 2023. He was born July 21, 1970, in Fairbanks Alaska and was hand delivered to his parents C.E. "Swack" and Cynthia Swackhammer at 2 days old. Throughout his childhood he also lived in Juneau, Anchorage but grew up in Soldotna Alaska. He attended Soldotna High School ('88), SLCC ('94) University of Tulsa ('99), University of Utah ('96). He was the oldest of 3 and was greatly loved by his younger siblings. At a young age, Troy was full of adventure. From running through the woods barefoot, to filling his mom's favorite roasting pan full of frogs, he was always on the go. Snow in the front yard meant belly flops in his pajamas and snowball fights.
During 2nd grade while living in Anchorage, Troy learned to play the upright bass in his school orchestra. This created a love for music and the desire to learn. When an AC/DC album was released on cassette tape, he was able to somehow convince his mom to buy it. From there on out it was heavy metal music all the way. KISS was one of his favorites, so much so that he dressed as Ace Frehly's The Spaceman for Halloween. Troy soon took up the electric bass guitar. He taught himself how to play the songs he loved and would often get his younger sister Kim to play something on the piano so he could copy or mimic it. During High School he participated in football and pole vaulting. Two of his first bands were also created – The Green Room Guys and 8T8. While vastly different in music styles, he loved both. He also became involved with politics as his dad was in the legislature. It was after graduation that Troy had the opportunity to be a Senate Page. Troy soon made the bold move to Utah; it was late in the day when he told his family that he was leaving. He packed up his car and left for the 60 + hour drive to Salt Lake. While his initial intentions for moving to Utah quickly changed, it didn't stop him. He soon met and married Stephanie Bywater, while both went on to remarry, they stayed in touch throughout the years. He had the opportunity to be a part of several bands, playing gigs in multiple venues. While heavy metal was still his favorite, he soon found a love of old country. And with that he went back to his roots and playing an upright bass. And boy, was he good! He was still apart of Donner Pass, The Mark Owen's Band and Rune at his passing – all of whom will miss him. Aside from his bands, he was also a lawyer, owner of a carpet cleaning truck, electrician and as of late was working around Helper where he built a mini golf course. You could usually find him helping Michelle Goldsmith restore her historic home, she was also the inspiration for him to consider running in their local political offices. As adults, Troy and younger brother Tyler were roommates for a short time. Their love of food and travel was a special bond. Watching Bizarre Foods encouraged them to try different food challenges and dream about all the places they would go together. Anything with heat was a fun one for both. Both did a lot of work together for our stepdad, who was electrician and mentor to Troy in that realm. Tyler remembers all the dead cats under the barracks at one job saying, "we got so used to it we would start taking naps down there when Bob would go get supplies." Troy had a love for singing silly songs, movies and television, trivia… all kinds of trivia!!! He loved art. From painting, sculpture and photography to poetry and music (yes, that included classical too). Any friends that were artists, he wanted to support in any way he could. He loved animals but his heart belonged to Miss Skitty, who will miss her human more than anyone can understand. For the past several years, while in Helper, he was with his best friend and sweetheart, Nona Watson. They started camping, which he found out he loved. They went as often as they could, even in the winter by the hot springs. They loved spending time together, building a life together. Many hours were spent with him singing, every day, to Nona from love songs, silly songs and everything in  between. Nona says "I think it's the thing I'm going to miss the most. Besides his amazing hugs…"
Troy is survived by his sister, Kim Feller, Boise ID; brother, Tyler Swackhammer (Shawn Root), Missoula MT; best friend and partner, Nona Watson, Helper UT; and Miss Skitty the cat of Helper UT.
Troy was preceded in death by his dad, C.E. "Swack" Swackhammer (d. 1994); mom, Cynthia Rytting Swackhammer Bowen (d. 2014); brother-in-law, John M. Feller (d. 2017); stepdad, Robert C. Bowen (d. 2022).
A celebration of his life will be held in the spring with all those who loved this mighty man. His remains will later be scattered at some of his favorite places.
Thank you to Mitchell Mortuary for honoring and protecting our brother while he was in your care and thank you to any others that may have been there to assist at his passing. Arrangements entrusted to Mitchell Funeral Home where friends are always welcome and may share memories online at www.mitchellfuneralhome.net.