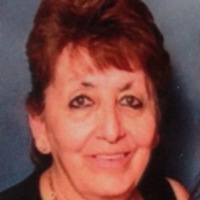 Sophie Maria Torres Maestas passed away peacefully at home on May 24, 2023 after a hard-fought battle with cancer. She was 77.
Sophie was born on February 23, 1946 in Moab, Utah to Juan Gilbert and Inez Martinez Torres. They later moved to Dragerton, Utah where she graduated from East Carbon High School.
She married the love of her life, Leo Maestas, in Payson, Utah on June, 22, 1968. He died just a short time later. She raised her children in Payson, Utah, but later came back to Dragerton/East Carbon to help take care of her parents.
Sophie was such a bright light. She had the biggest heart and accepted people without judgement. She loved unconditionally and was always thinking of others. She had a love of clothes and shoes and was a pro at thrift store and yard sale shopping. She could never pass up a deal and would say, "Well, it'll fit somebody." She had an intense love for Mexican music and loved to dance to the cumbias. We know that she and grandpa Leo are up there doing the Jitterbug.
Sophie is survived by her two children, Leo Maestas and Loretta Maestas (East Carbon); brother, Joe (Toni) Torres (Helper), sister, Mabel Keaton (Killeen, TX), Monica Torres (East Carbon), Cecilia (Scott) Pierucci (Gillette, WY); grandchildren, Jennifer, Jeremy, Damien, and Megan; great-granddaughters, Kacee and Aniyah; and bonus grandsons, Kyler, Dominic, Landon, Isaiah, Gabriel, and Rhyker.
Preceded in death by her parents; husband Leo; brother, Anthony Torres; sister, Mary Torres; and special niece, Jessi Sanchez.
Memorial service, Thursday, June 1, 2023, 10:00 a.m., where the family will receive friends one hour prior to the service. Arrangements entrusted to Mitchell Funeral Home of Price and Huntington where friends are always welcome daily and may share memories of Sophie online at www.mitchellfuneralhome.net.