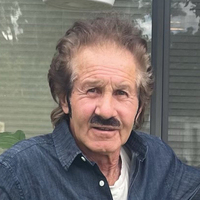 With great sadness we announce the loss of our father, grandfather, brother, uncle and friend, Mike Hovat who passed away unexpectedly May 26, 2023.
He was born July 1, 1954 to Irene Daskalos Hovat and Thomas John Hovat Sr. His grandparents were Mary and John Daskalos and Ana and Marco Hovat. Mike married Cindy Alger in 1975 and had two sons together; later divorced. He married Phyllis McGowan in 1994 and had one daughter together; they later divorced.
In his early years, he worked at Valley Camp Coal Mine, but a mining accident he was lucky to have survived changed all that, and he never went back. Mike was a welder by trade and became a very talented craftsman. His meticulous nature and creative abilities were astonishing. Never did the conversation stay serious with our comedian present. He was always telling off-the-wall stories and jokes, like his invisible pet dog, Shania Twain, and Betty White. Mike was a man who always had the wildest stories to tell about his life and experiences too. Most of the time you wouldn't know if he was serious or not. But the majority of them were in fact true.
Mike had a love of gardening and shared his knowledge with those around him. He often canned and preserved various things from his garden and shared it with those he loved. His fruit leather was the biggest treat! His other specialties were his California Mix and jerky. He would even bake breads or cookies for the neighbors. And the man loved his coffee, Black. We joked that his blue coffee mug was superglued to his hand. His grandsons would try prying his coffee mug from him and Mike would pull the silliest of faces, pretending to struggle and snarl to release it. The boys would just laugh. If you needed to figure something out, he had the idea to get it done. The man didn't know what rest was. He was a real go-getter.
He took great care of his mother and her yard for many years and found pleasure in doing so. He was always building something and had a passion for encapsulating history, whether it be the family history or local Carbon County history. He often enjoyed trips to Price visiting his grandsons and would sneak them suckers when he departed. He loved decorating graves with his aunt Phyllis and cousin Lois for Memorial Day.
Mike is survived by daughter, Nicole (Cody) Allred of Price Utah; grandsons, Rahj and Bowen; son, Mike Hovat Jr. of Brunswick, Georgia; step-daughter, Christin (Kenny) Smith, Thermopolis, Wyoming; sisters, Mary Tonks, Pocatello, Idaho, Christina (Shawn) Baker in North Pole, Alaska, and many aunts, uncles and cousins.
He is preceded in death by his parents, grandparents, infant son, Mark Hovat; brother, Thomas John Hovat Jr., cousins, Troy and Orson Marsing; and a nephew Thomas Guy Gourdin.
Graveside service, Monday, June 5, 2023, 12:00 (noon), at the Mt. View Cemetery in Helper, Utah. A get together will immediately follow at the Helper Events Center.
Mike always said: "I'm not here for a long time, I'm just here for a good time."  You'll be very missed.
Arrangements entrusted to Mitchell Funeral Home of Price and Huntington where friends are welcome to share memories online or donate towards final expenses at www.mitchellfuneralhome.net