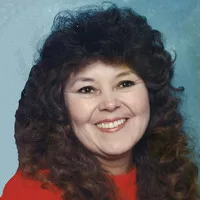 Larraine Marie Johns, age 70, passed away peacefully on September 20, 2023 at Castleview Hospital in Price, Utah.
Larraine was born on June 18, 1953 in Price, Utah to parents, Eufracio Pat and Elise Roybal Vigil. She would later marry Johnny Johns on January 15, 1978 in Elko, Nevada. Johnny preceded Larraine in death on October 28, 2021. She missed Johnny dearly and looked forward to the day when she could embrace him again soon.
Larraine loved all those who knew her; whether they were her friends or not! She enjoyed the times of having her family over for meals and for gatherings where she would almost always do the cooking because she loved to cook and to receive those compliments from her family. Larraine loved everybody she worked with in all of her different places of employment; especially her last place of work which was the Heirloom Inn in Price, Utah. Larraine also had a love for camping with her husband John and her "babies" which were her pets; dog, Dieago and Mender Ann her cat.
Larraine is survived by her siblings, Pat J. Vigil, Helper, Utah, Mary E. Foster, Helper, Utah, Joseph Vigil, Price, Utah, Larry Vigil, Las Vegas, Nevada, Phillip Vigil, Austin, Colorado, Ruth Chavez, Price, Utah, Frankie Vigil, Price, Utah, and Moses Vigil, Price, Utah; and many nephews and nieces. John and Larraine also had a very special nephew named Kippy Reid son to Keith and Carrie Reid. He was with uncle John and aunt Larraine twenty-four seven during their time of need.
Larraine is preceded in death by her loving husband, Johnny Johns; parents, Eufracio Pat and Elise Roybal Vigil; and sisters, Rachel Macias and Andrea Nevarez.
Memorial Graveside Service, Friday, October 13, 2023, 12:00 (noon), Mt. View Cemetery in Helper, Utah. Arrangements entrusted to Mitchell Funeral Home of Price and Huntington where friends are always welcome daily and may share memories of Larraine online at www.mitchellfuneralhome.net