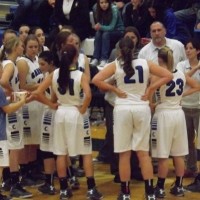 The Carbon Lady Dinos romped past the Bear River Bears 47-22 Friday evening at home, advancing to the quarterfinals of the 3A state championship tournament in the process.
Senior Sara Morley dominated the post scoring 15 points and accumulating 17 rebounds. Lindsey Blanc helped push the offense with 15 points and five assists to go along three steals. Taylor Passarella and Morgan Hillam both chipped in to score four points a piece in the blowout victory.
Delivering a defensive clinic, the Lady Dinos held Bear River under double-digits in the first three quarters of the contest. The Bears entered the fourth quarter with just 11 points on the scoreboard and matched that total in the final eight minutes as Carbon waltzed through the fourth stanza.
Friday's win was the sixth consecutive for Carbon and means the team will advance to the quarterfinals at Southern Utah University in Cedar City Thursday evening. Taking the court at 7:30 pm, the Lady Dinos will meet Stansbury, who defeated Desert Hills 68-63 in overtime Friday night.
A win on Thursday would put the Lady Dinos in the semifinals against either Cedar or Juan Diego on Friday. A loss would end all hopes of winning a state championship, but would put Carbon in the consolation bracket, also on Friday.