KARB Kicking Country 98.3 was honored to get a surprise visit from Governor Gary Herbert while he was in town today on the campaign trail. Herbert stopped in the studio to talk on air with Mallery to reach out to the community about the Annual Pie Auction and encouraging everyone to call in to place their bids. Governor Herbert  also placed some bids on a couple pies and won.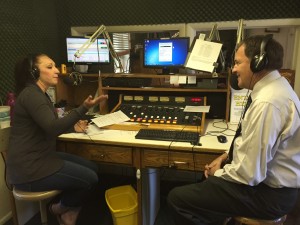 Governor Herbert upped the ante on the pie that was donated by the Carbon Copy Center by throwing in a personal tour of the Governor's mansion if the bid could get as high as $200.00. He than challenged bidders if he got a bid as high as $300 he would throw in he would have the First Lady help with the personal tour and the winner would be able to bring their extended family on the tour. 
The bid ended at $500.00 which ends up funding five $100.00 fuel cards for five individuals.