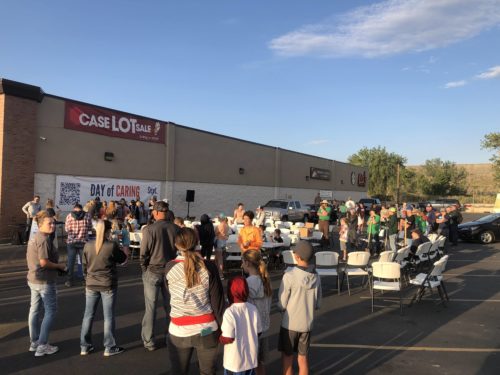 The annual Day of Caring was held on September 11 and this event is one of the largest single day of volunteerism in Carbon County.  United Way of Eastern Utah's Executive Director, Megan Cummins stopped by Castle Country Radio to fill us in on the success of the event.
"It was my first event working for United Way, so my first Day of Caring working for United Way. I'm so impressed by all the folks who showed up, all the people who offered their help beforehand. It's a big operation to plan something like this and to get all our ducks in a row but we had so much help and I'm really grateful to all the community members who stepped up," said Cummins. There were over 300 volunteers from all age groups that assisted with the day's projects. Those in attendance enjoyed a free breakfast before being divided up into workgroups to complete 26 projects scheduled to take place that morning.
There was a high schooler in Emery County that used the Day of Caring event to complete a project in Emery County. "United Way of Eastern Utah spans seven counties, I say that all the time and a lot of our efforts have been traditionally focused in Carbon County since our office is here in Price but one of my goals as Executive Director is to make sure we are serving the citizens in each county. This high school student Tagley Terry, shout out to him for taking the bull by the horns and organizing a project tin Emery County," explained Cummins. Overall, the Day of Caring event was a huge success across the board.
The annual event would not be possible without the help of several sponsors. "Lin's supplied breakfast and lunch for our volunteers, they gave us a space to meet in the morning and that was wonderful. Kyle from Sutherlands donated a bunch of water so that our volunteers stayed hydrated. Swire Coca-Cola donated some soft drinks for lunch, that was amazing. Alan Peterson with Peterson Chemical, the trash bags, the city donated some trash bags too. It was just absolutely a community effort," said Cummins. The county also donated vouchers to take trash to the landfill during the event.
The next upcoming event for United Way of Eastern Utah is a Budget Basics Class with Washington Federal bank. "We also have a Budget Basics Class. Now you might hear budget basics and think, I know how to balance by checkbook, I know how to pay my bills online – whatever. But this is some good information for folks of any income level – I don't care how much you're making its always good to revisit budget basics. So Kim Wells with Washington Federal or WaFd now, she and I are partnering for this class. That's going to be Wednesday, 22nd of September from 6:00 pm to 7:00 pm at WaFd Bank and more information will be on our website," stated Cummins. This is a free event to attend.
To learn more about the services offered at United Way of Eastern Utah visit their website at https://www.uweu.org/