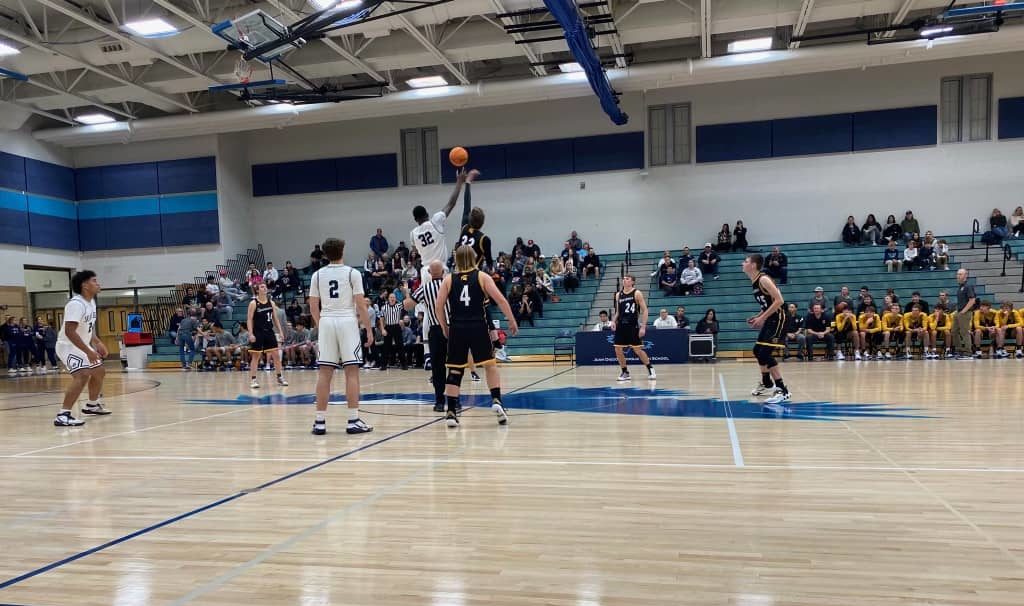 Coming off a loss to South Summit last Friday the Spartans hit the road to take on possibly the No. 1 team in 3A the Juan Diego Soaring Eagle. It was a tall task and the game was actually closer than the final score would indicate but in the end Juan Diego handed Emery their second loss of the season 72-50.
Juan Diego is led by Malick Dialo, a 6'8″ sophomore who already has offers on the table from BYU and USU.
Emery started slowly in the first quarter coming up with just eight points. The Spartans 6'6″ junior Brett Rasmussen got into foul trouble in the first half and had to come out to avoid getting another. Emery coach Dave Justice said after the game that they feel comfortable with who's coming off the bench in those situations however.
"Well obviously we need Brett on the floor, he's an awesome defensive presence for us, we kind of try to run our offense through him. For Brett, it's just about being those smart fouls, like I don't mind those fouls at the rim when he's kind of protecting it, straight up, battling. But at the same time we're super comfortable with Mangum and Kysen running that four and that five and it just brings in another guard, so we do go a little smaller, but when we have to go minutes without Brett we're super comfortable with the guys that we have."
While the score doesn't indicate it, the game was closer than what on paper looks like a 22 point beating. In the second quarter Juan Diego was up by 15 at one point and Emery had cut that lead to just six with one minute left till the half, and Emery had the lead down to seven with three minutes left in the third.
"They're hard working kids, they're good kids. I'm just super proud of them, we just need to continue this effort and as well as the effort, just continue improving in all aspects of the game and hopefully we're there at the end of the year", Justice commented.
For the Spartans it was Wade Stilson and Kysen Curtis who both put in 10 points a piece. Luke Justice added nine.
Next up is the defending 3A State Champion Juab Wasps on Wednesday, December 1 in Nephi. The next home game for the Spartans will be on Dec.15 when they welcome American Leadership Academy.
You can tune in for all the action against Juab to KOAL 107.3 FM and 750 AM at 6:30 for the Landon's Diesel Pre-game, tip-off will follow at 7.  You can also stream the game live at HERE on Castle Country Radio's website.