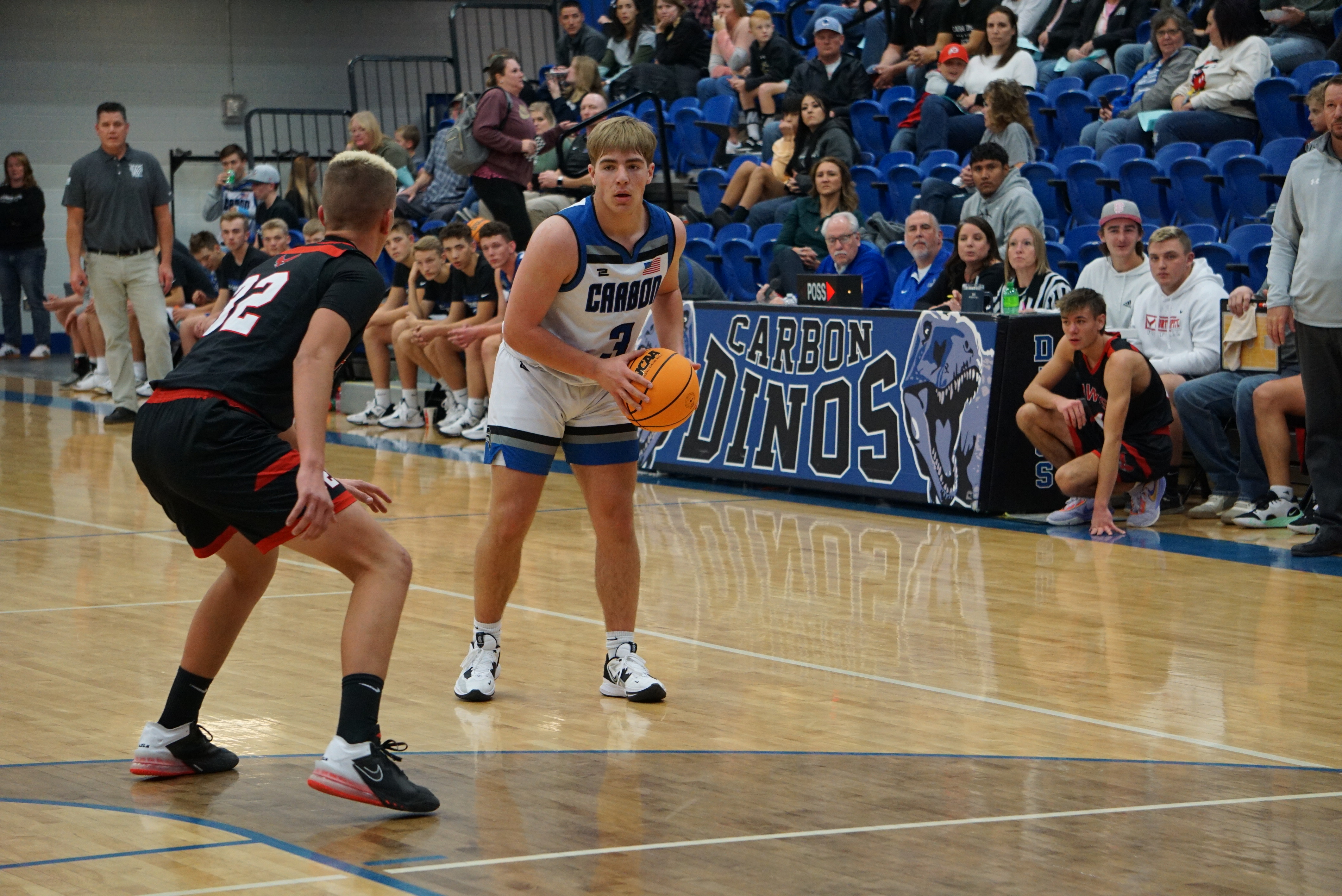 A streak of three straight wins is exactly how the Carbon Dinos wanted to start their 2022-2023 campaign. Carbon defeated the North Sanpete Hawks 74-58 to move to 3-0 on the season. The 3-0 start marks the Dinos' best start since the 2019-2020 season.
The game started with a low-scoring first quarter as neither team could find the bottom of the basket. Braxton Stevenson and Zeke Willson did their best to get Carbon in motion, but it was North Sanpete that jumped out to an early 12-10 lead after the first eight minutes.
Carbon found a groove in the second quarter as Cole Cripps and Chet Anderson led the Dinos to 18 second quarter points. The Dinos entered the halftime break with a narrow 28-23 lead over the Hawks.
The second half was highlighted by an offensive explosion by Cripps and Stevenson as Carbon outscored North Sanpete by seven points to take a 12 point lead into the final period.
Carbon held to their lead in the fourth quarter and ended with a 17-point win over North Sanpete, 74-58.
Braxton Stevenson led the Dinos with an outstanding 24 points, eight rebounds and two assists. Stevenson also went 11-11 from the free-throw line. Cole Cripps followed with 17 points, nine rebounds, three assists and 2-5 from the three-point line. Zeke Willson scored 12 and Chet Anderson finished with 10 to round out the Dinos in double figures. Mason Vasquez added five points, Ashton Ferguson had four and Ryker Butler added two.
The Dinos outrebounded the Hawks 30-24 and forced 13 Hawks turnovers. Carbon, as a team, shot 87.5% from the foul line and 33.3% from the three-point line.
Carbon will return to the court, after the Thanksgiving break, to take on the Juab Wasps. The Wasps will enter the game having played just one game on the season (to be played Wednesday against Richfield).
The game is scheduled for 7:00 p.m. on Nov. 30 at Carbon High School. Catch the action on KRPX 95.3 The Peak and listen to the Landon's Diesel Service pre-game show live at 6:30.