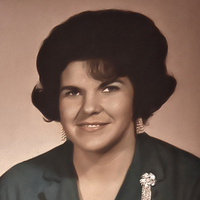 Our loving wife, mother, grandmother, sister, aunt and dear friend, LoyDeane Carter Wilske, 84, passed away March 14, 2023 at St. Mary's Hospital in Grand Junction, Colorado from the results of a fall.
She was born October 31, 1938, in Provo, Utah to Loyal and Rinda Rowley Carter. On June 26, 1958, she married Tommy Davis; they later divorced. On May 11, 1963, she married the love of her life William Herbert Wilske, Jr. on May 11, 1963 in Pocatello, Idaho; their marriage was sealed in the Idaho Falls Temple on June 30, 1967.
LoyDeane was an active member of The Church of Jesus Christ of Latter-day Saints where she and William served a mission in Thailand in March of 1995. She was a graduate of North Emery High School in 1956 and later graduated with her cosmetology degree from Excelis Beauty School in Provo. LoyDeane worked in beauty shops in American Falls, Idaho, Arizona and was the owner of Artistic Shears in Price. She also worked at Koret of California and as a CNA at the American Falls Hospital. She enjoyed sewing and quilted just about anything. She was also an avid reader who loved her books. LoyDeane liked traveling and being a camp host in California, Utah, Nevada, and Colorado, but her favorite place was being a host at Flaming Gorge.
Family was everything to LoyDeane. She adored her children, grandchildren and loved having her family together. They will miss her deeply along with a community of friends.
The family would like to extend a special thanks to Community Nursing Services and the staff at St. Mary's Hospital for the loving support and kindness shown Mom and our entire family.
Survived by her loving husband, William H. Wilske, Elmo; children, Rodney Wilske, Garden City, Utah, Debbie Larsen, Park City, Utah, Bryan (Debbie) Wilske, Denver, Colorado, Cheryl (Mike) Nelson, Castle Dale, Utah, Diane Lodeserto (Mike Allred), Cleveland, Utah, Robert (Bonnie) Wilske, Tampa, Florida; 23 grandchildren, 26 great-grandchildren, two great-great-grandchildren; three sisters and one brother, Colleen (Art) Jones, Henefer, Utah, Linda (Pete) Mottishaw, Chubbuck, Idaho, Carolyn (Dirk) Harris, Rigby, Idaho, Stanley (Juanita) Willson, Elmo, Utah; sisters-in-law, Mary Riley, Pocatello, Idaho, Paulette (Russell) Brotnov, Clearwater, Idaho; and brother-in-law, James A. Wilske, Pocatello, Idaho.
She was preceded in death by her parents, Loyal, Rinda and Clarence; son, Jerry Wilske; grandson, Preston Lodeserto; sister, Carma Sherman; brothers, Clifton (Micki) Carter and Stephen Willson; daughter-in-law, Iva Wilske; and a son-in-law, Nolan Larsen.
Funeral service, Saturday, March 18, 2023, 11:00 a.m., Elmo Ward Chapel where the family will receive friends one hour prior to service. Interment, Elmo Town Cemetery.  In lieu of flowers, the family would appreciate donations to St. Mary's Hospital in memory of LoyDeane.  Arrangements entrusted to Mitchell Funeral Home of Price and Huntington where friends are always welcome and may share memories online at www.mitchellfuneralhome.net.